Kitesurfing in Tarifa
Kitesurfing in Tarifa
https://freeridetarifa.com/wp-content/uploads/2020/03/Ecole-De-Kitesurf-Tarifa-Freeride-freeridetarifa.jpg
500
500
Freeride Tarifa
Freeride Tarifa
https://freeridetarifa.com/wp-content/uploads/2020/03/Ecole-De-Kitesurf-Tarifa-Freeride-freeridetarifa.jpg
Why is Tarifa a must try
kitesurfing destination?
Release that need for freedom and escape on a kitesurf holiday. Freeride, freestyle, big air, foil, wave, adapt your style according to the spot. From paradise lagoons to the most famous waves in the world, kitesurfing will give you unique sensations through trips and surprising encounters.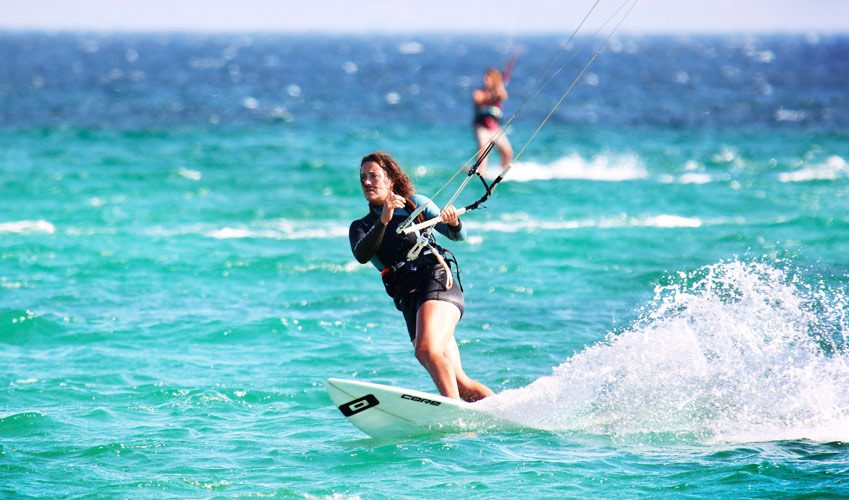 Are you hesitating between different destinations for your next kite trip? You want to learn kitesurfing and make sure that you choose the right kite spot? Here are 10 good reasons why Tarifa should be your next kitesurfing destination!
Tarifa for its wind statistics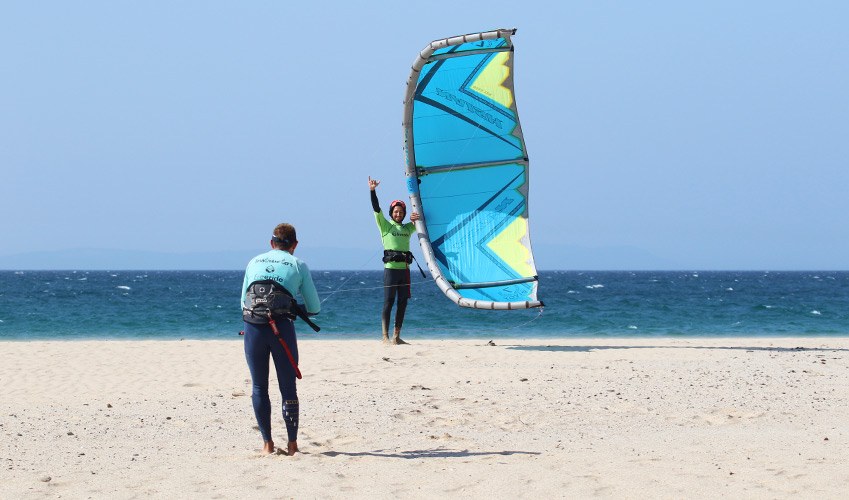 Many people choose Tarifa to learn kitesurfing for its very good wind statistics. The European Wind Capital is a flagship destination for kitesurfing for many years, benefiting on average from 300 days of wind per year. Tarifa remains a kite destination accessible at all levels.
Do not trust 100% windguru which does not take into account local effects! Due to its location and its mountainous reliefs, Tarifa benefits from an important venturi effect as well as from a thermal. You can therefore easily add 7 to 10 knots on the announced stats.
Tarifa for its variety in kitesurf spots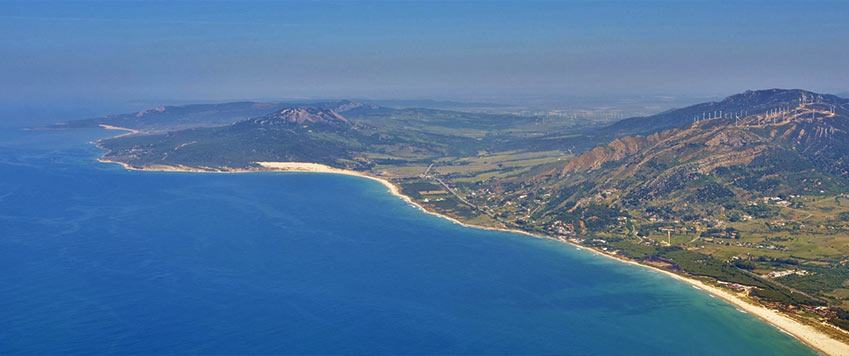 The various spots in the region offer the opportunity to practice kitesurfing in many types of conditions. From flat offshore created by the Levante, to side onshore brought by the Poniente with a few waves to surf, you will ride with riders from all over the world!
In Tarifa itself, you have 3 kitesurf spots: Los Lances Norte, Los Lances Sur and Valdevaqueros which are a few minutes from Tarifa village by car. No need to take a boat, all these kite spots allow launching from the beach.
For those wishing to explore other spots, head towards Caños de Meca at 40 minutes from Tarifa. A spot reserved for independents riders, where you can find magnificent waves for strapless lovers.
Tarifa for its kite lessons quality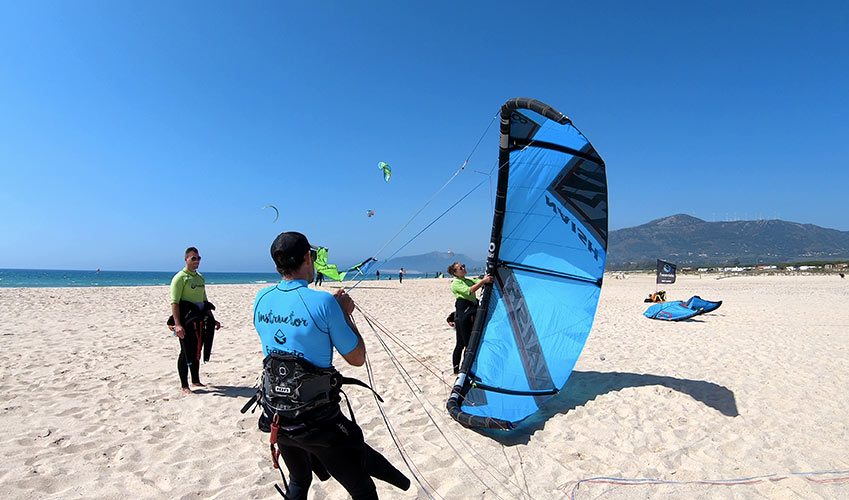 Tarifa is a multi-faceted spot! You will learn to ride in different conditions and this will allow you to be more comfortable in your home-spot or when you will go to an unknown kite destination.
Having a good learning is also an undeniable asset. Some kite spots can be very attractive but the teaching is not always. Freeride Tarifa is recognized by IKO (International Kiteboarding Organization) for its pedagogical teaching and it is also licensed in Spain by the FAV federation. You will learn kitesurfing with kite enthusiasts who will take the time to teach you all the basics to drive you to a savvy and autonomous rider.
Tarifa for its safety on kite spots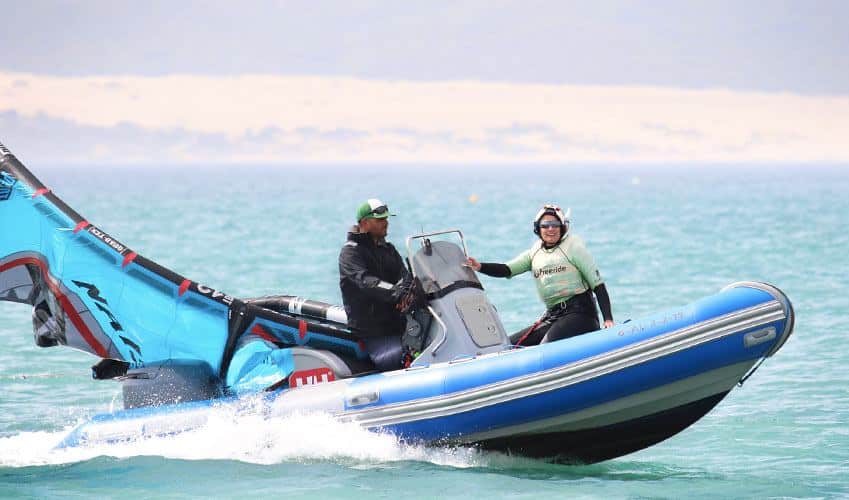 From March to December Sea Angels (rescue boats companies), ensure the security of Tarifa kitespots. If you lose your board or your equipment, if you get tangled with someone or suffer poor reception, they will quickly give you their support by giving you the necessary help.
Our kitesurf school works in collaboration with New Angels, so you will learn to kitesurf safely. The rescue service is included in all our kitesurfing lessons.
For independent riders, with your equipment or in rental, you will need a rescue card in order to benefit from this service.
Ticket rates are (valid for the whole season): 2 rescues for €40 and 5 rescues for €60 with our partners New Angels.
Tarifa for its favorable climate for kitesurfing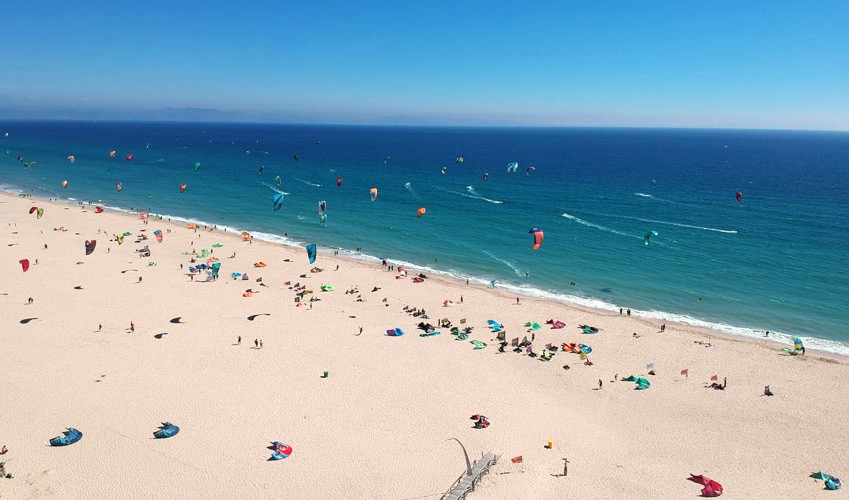 We do not have a wind season in Tarifa, the wind blows all year round even if sometimes it gets a little temperamental. It is, therefore, advisable to come to Tarifa throughout the year depending on the climate and atmosphere you are looking for.
Average temperatures range from 15°C in January to 25°C in summer and the ocean temperature from 16°C to 23°C. However, we advise you to go there from April until October to take advantage of the best conditions. December can turn out to be a very good month, depending on the weather.
Be aware that in winter you risk having more waves (notice to Strapless Lovers) due to many offshore storms. Winters are also more favorable for the rainy season but each year is very different.
Tarifa for its beaches & its atmosphere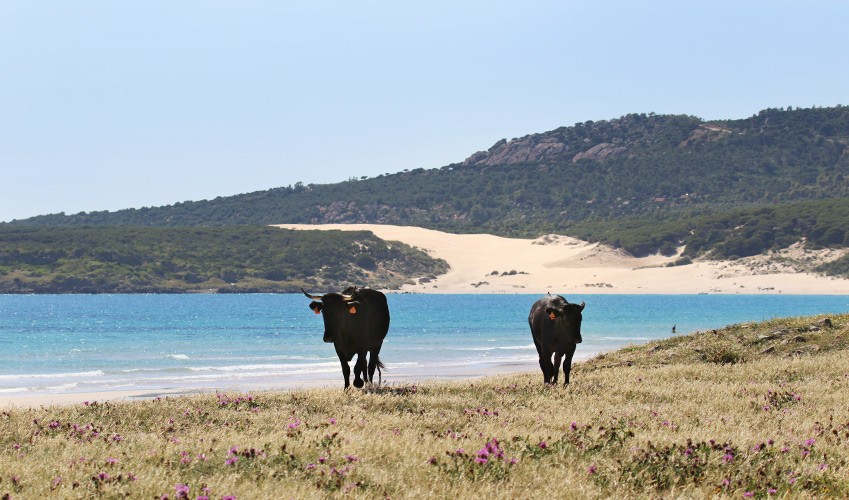 Tarifa is surrounded by natural parks and has the most beautiful beaches in Andalusia. Wide wild sandy beaches, still spared from resorts. Nature is omnipresent and you have a large playground of over 10 km for kitesurfing, what's not to like?
After effort comes comfort! Enjoy the relaxed atmosphere of the village and its good surfing vibe. You will have the opportunity to sip a nice little cocktail or take a refreshing beer facing the ocean in one of the chiringuitos (beach bars). Some offer a more relaxing and family ambiance such as the Tangana or Arte Vida or a little more fancy with Bibo. While others are in a more festive trend like Tumbao, Agua or Waves.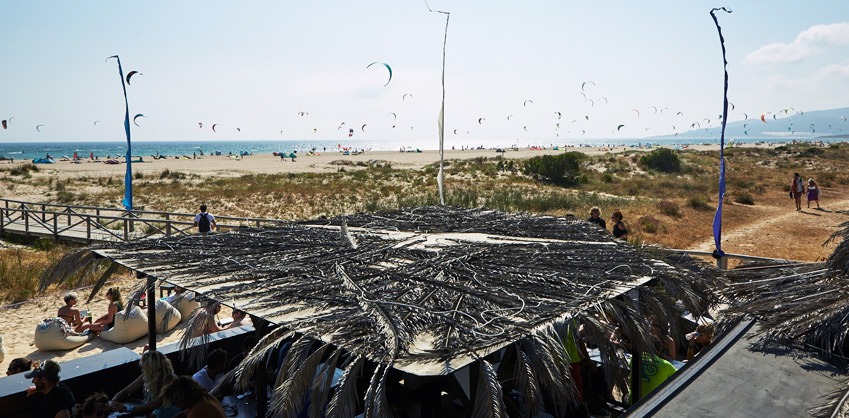 Take a break to regain your strength for your second kitesurfing session or rest and watch the blazing sunset over Tarifa.
Tarifa for its local specialties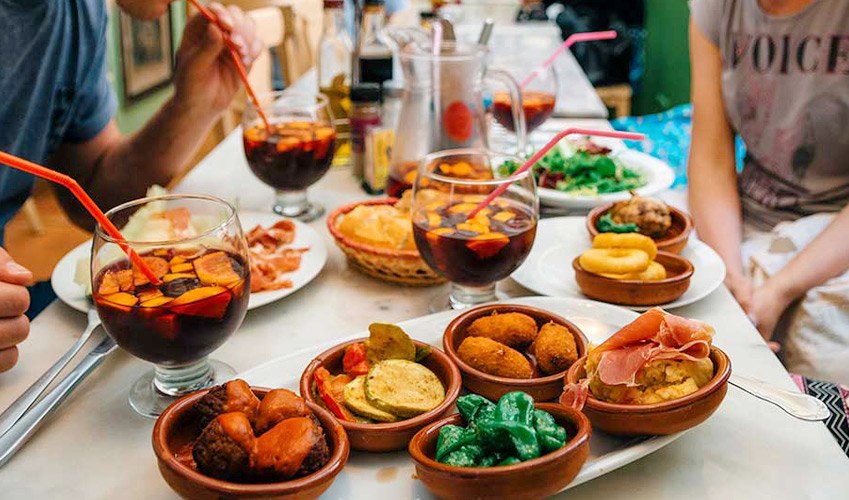 During our kite holidays we also like to eat well and thrill our taste buds by discovering the local cuisine. Take your breakfast in a hipster style cafe, eat some tapas by the beach, take a glass of Spanish wine in the old town… Andalusian cuisine is renowned for its diversity with its Iberian ham, its high quality meat of pork/beef and its fish caught in the waters of the region. Do not forget to test the tuna and the pulpo, the main fish specialities.
Tarifa for its outdoor activities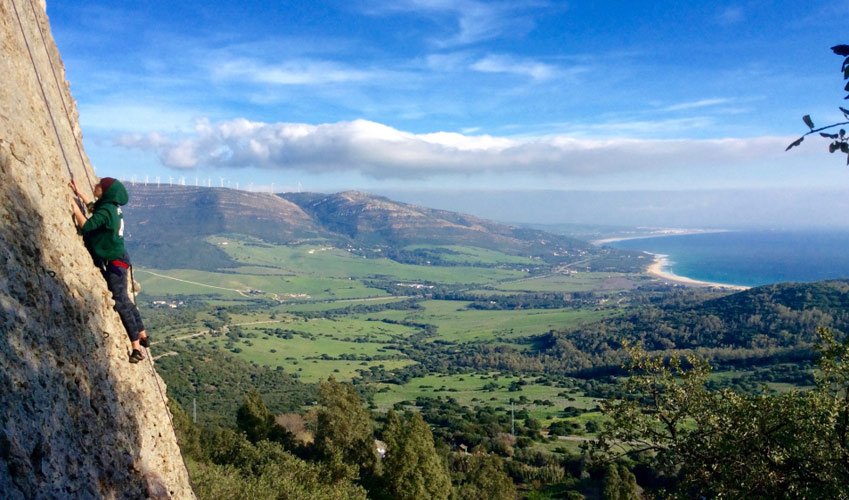 But what if there is no wind in Tarifa? This is often one of our concerns when we go to a kitesurfing destination. Tarifa is full of activities to do with family or friends; From hiking, on foot or on horseback, to climbing the mountains of the region, from downhill mountain biking to visiting the seabed, experience unique moments and discover new passions. Go on an adventure for a day by disconnecting from the world and enjoying what nature has to offer.
Tarifa for its cultural & environmental wealth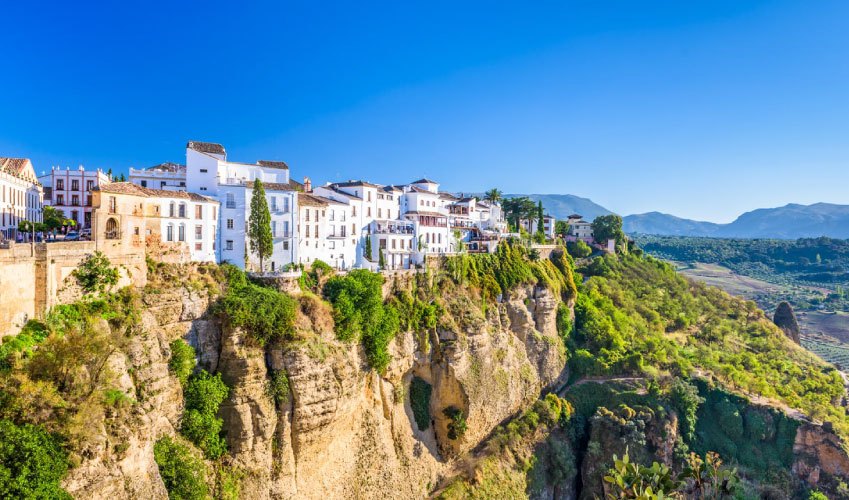 The Cadiz region is surrounded by natural parks which contain innumerable treasures such as waterfalls, pine forests, coves or even hills with breathtaking scenery and viewpoints. The region offers a very specific flora and fauna thanks to its favorable climate. Discover the nature in its purest form, climb the hills and go off the beaten track in the magnificent setting of Andalusia.
You will not be in lack of culture with the neighboring villages like Bolonia for its Roman ruins, Ronda, Granada or Sierra Nevada… A history book opened a few hours from Tarifa.
Tarifa for its proximity & advantageous rates
When booking your kitesurfing holiday, you will certainly have to be careful with your budget. Thanks to its proximity, Tarifa is easily accessible from anywhere in Europe both by car and by plane from the airports of Malaga, Sevilla, Gibraltar and Jerez de la Fontera.
Treat yourself without breaking your piggy bank! You will eat there cheaply and could enjoy kite lessons at attractive prices.
Will Tarifa be your next kitesurfing trip?
Now you have all the keys in hand to choose your kite destination.
This site uses Akismet to reduce spam. Learn how your comment data is processed.