THE FREEDOM OF KITESURFING
Kitesurf Lessons In Tarifa
The set up is easy. A body harness connects you to the sail and your feet to the straps of the board – similar to a wakeboard. With the help of mother nature (i.e. wind) and bit of practice, you'll be gliding over the water in no time. Kitesurfing can give you a whole range of sensations, from freedom, exhilaration to total control.
It also suits different sport styles. On one hand, you can simply take the atmosphere and ride freestyle over flat water. On the other, you can get your adrenaline going and tackle the waves.
Whatever your preference, it'll be an experience you won't want to forget.
KITE LESSONS
See our prices
Our kitesurfing lessons take into account equipment hire
and prices are quoted per person.
Lesson plan
You'll want to be flying with your kite rather than seeing it going underwater. That's why 90% of kitesurfing is about kite control. To make sure you're fit for the winds, here is our kitesurfing lessons plan:
Step 1: Kite control (≃ 6h)
Step 2: Body drag (≃ 3h)
Step 3: Waterstart (≃ 6h)
Progression
It takes around 15h to stand up on the board and around 30h of training to become an independent kiteboarder. Once you've reached the point where you can stand up on your board, you're more than halfway there. Now, you simply need to learn how to control speed, direction, how to go upwind and turn. And if you master that – then you're set to learn the most thrilling part – the jump.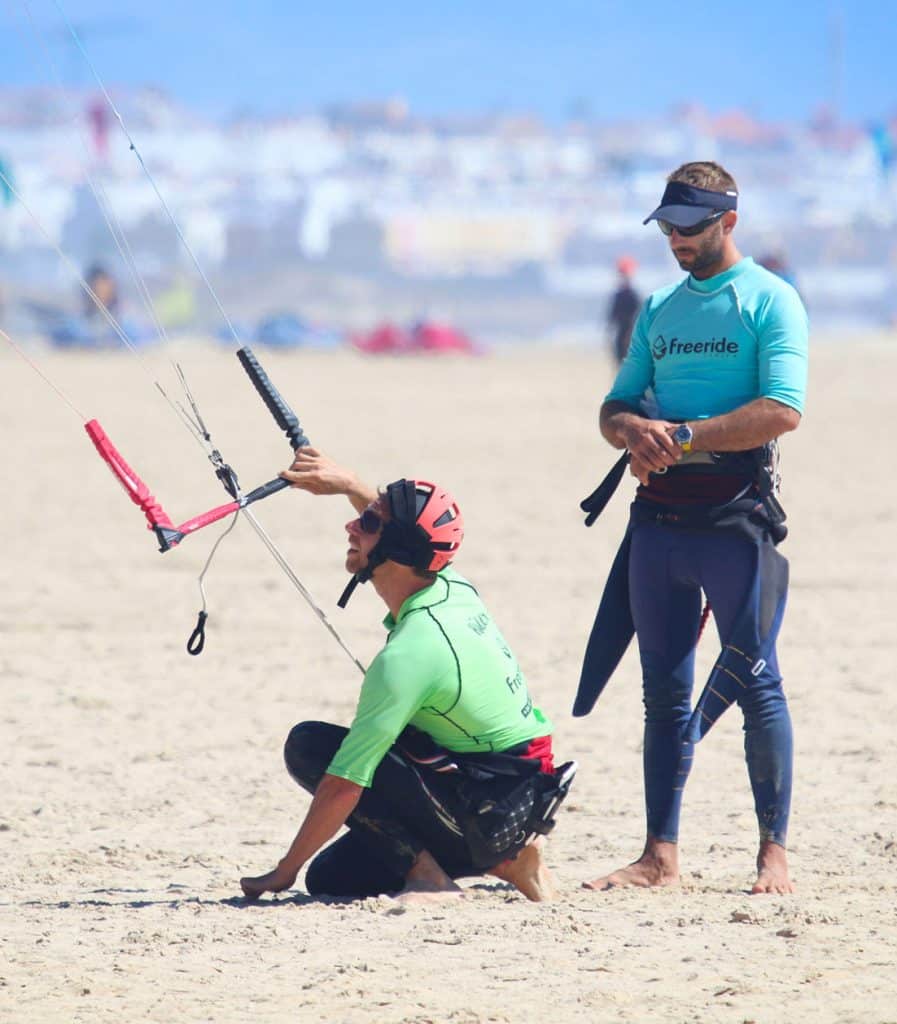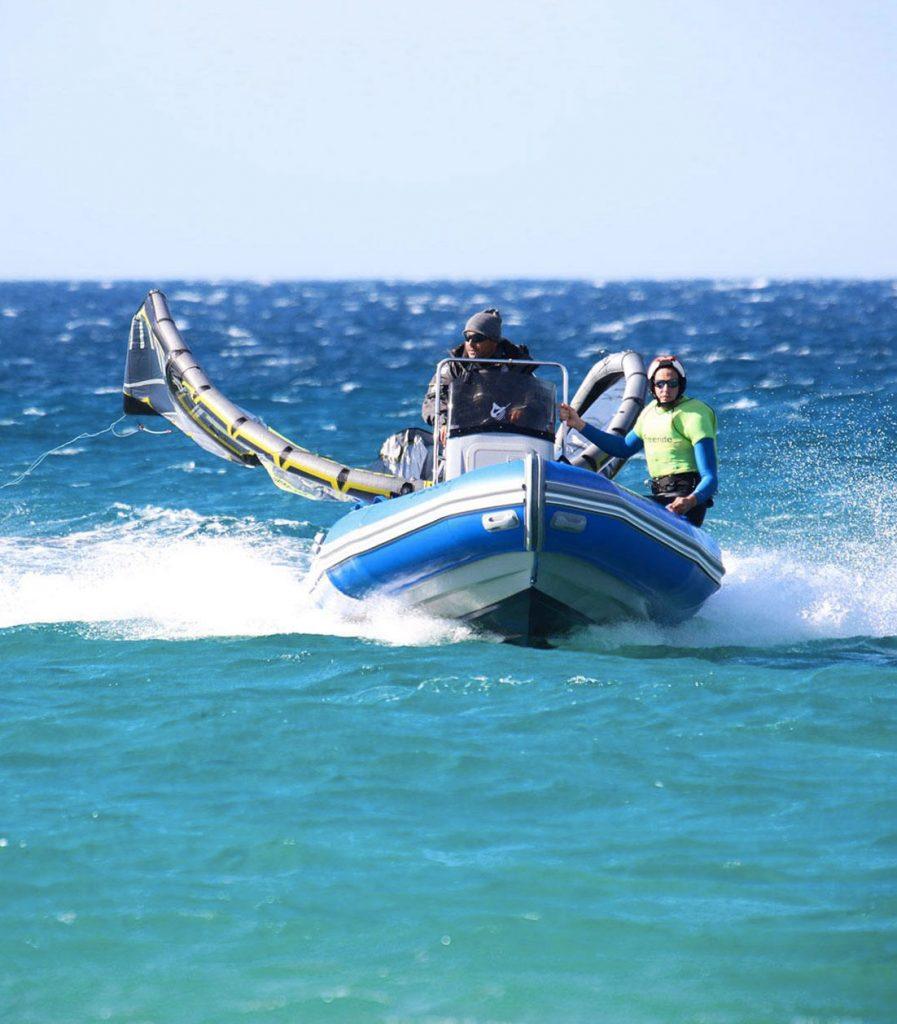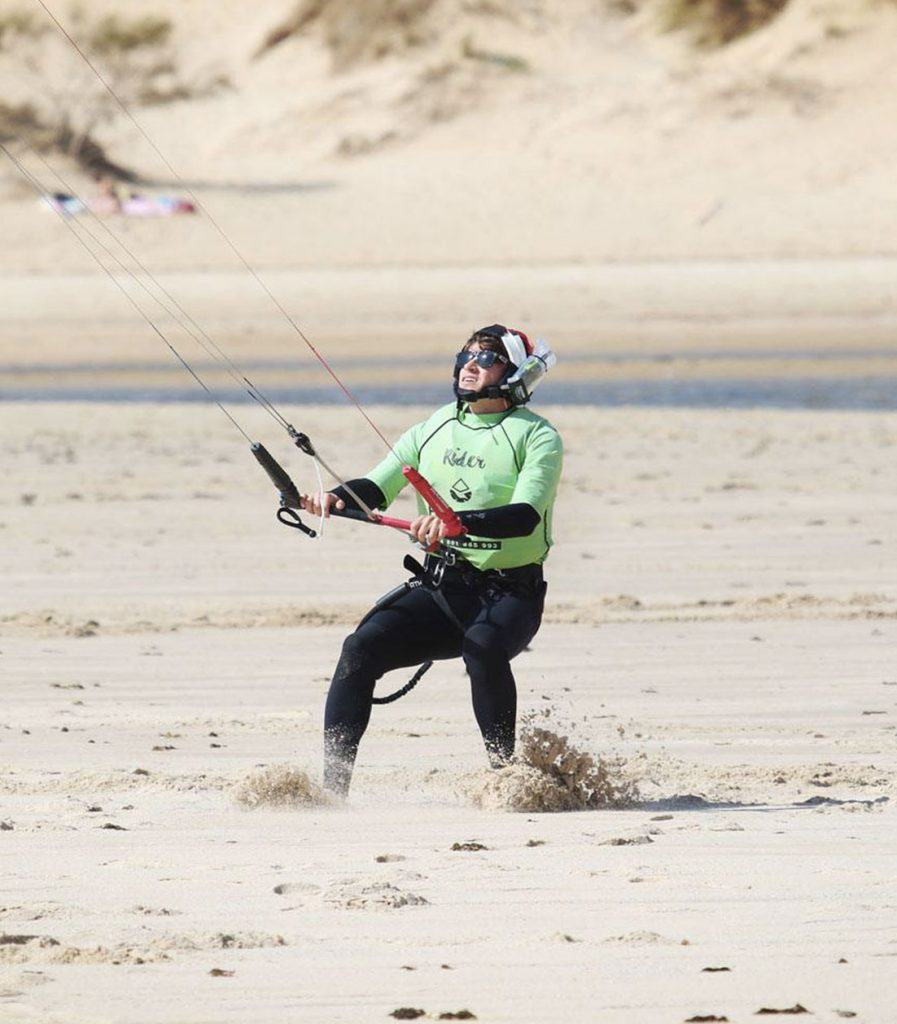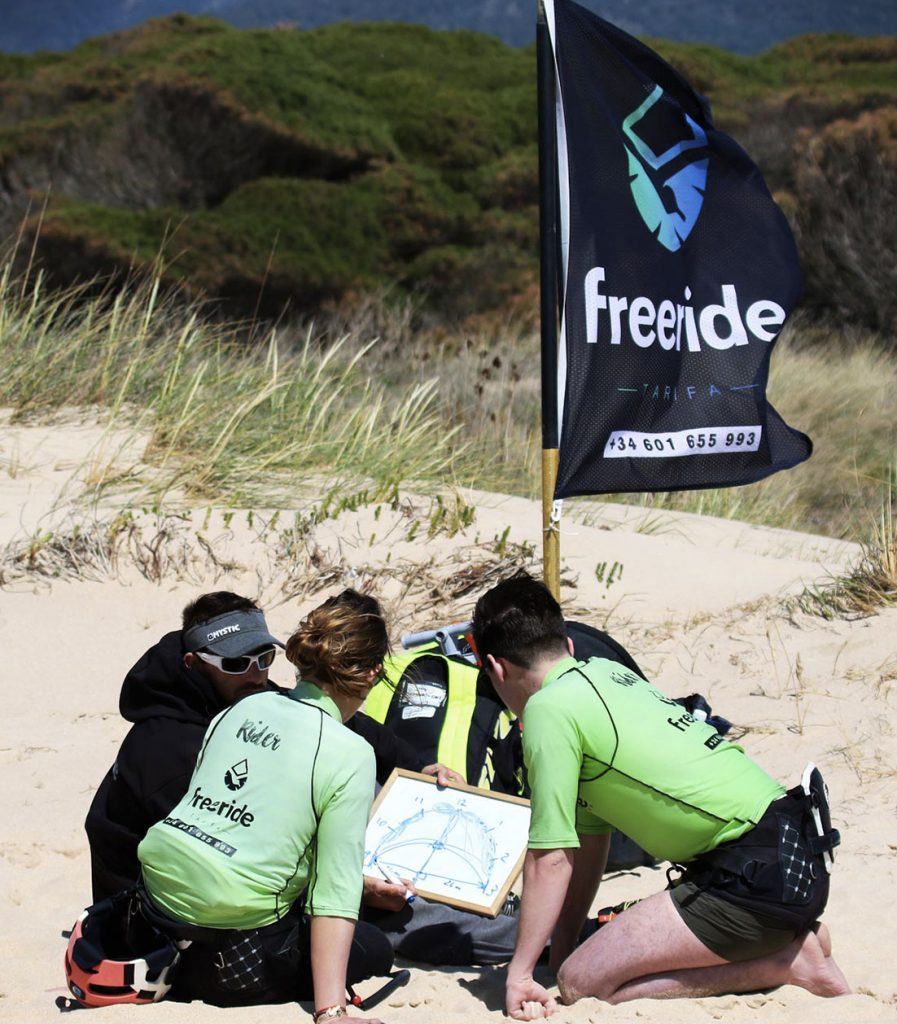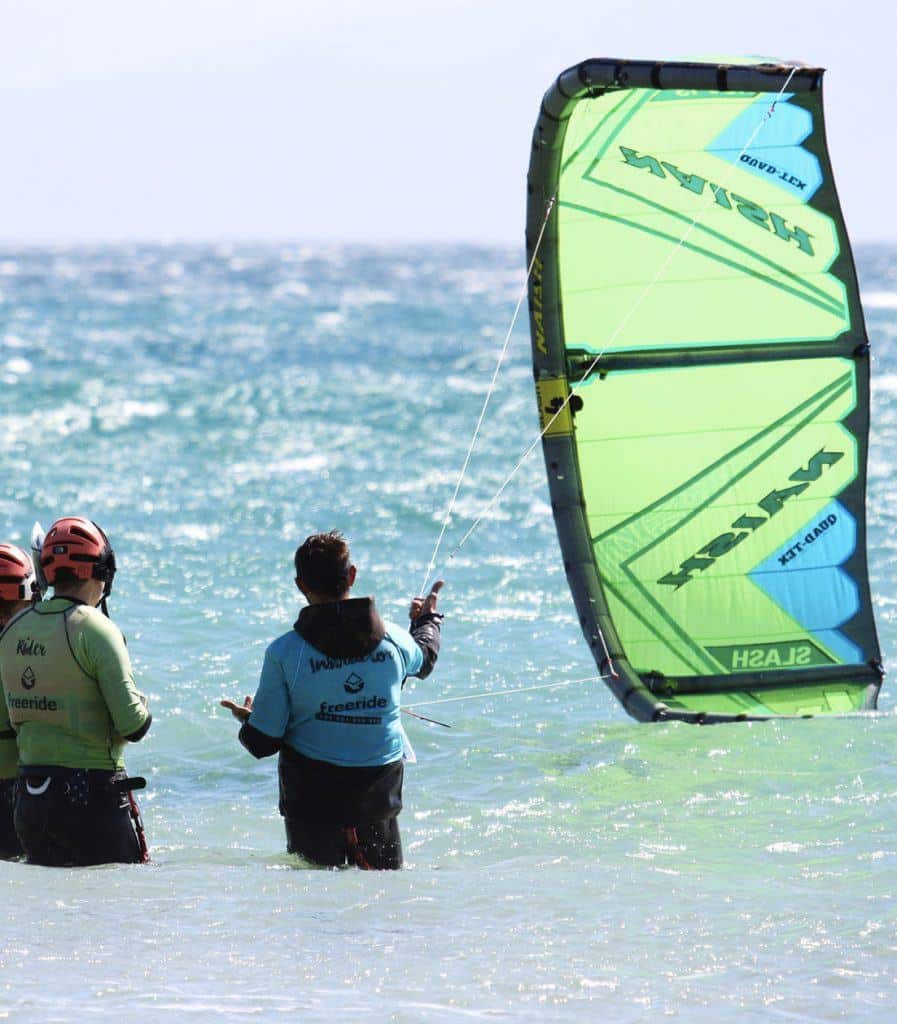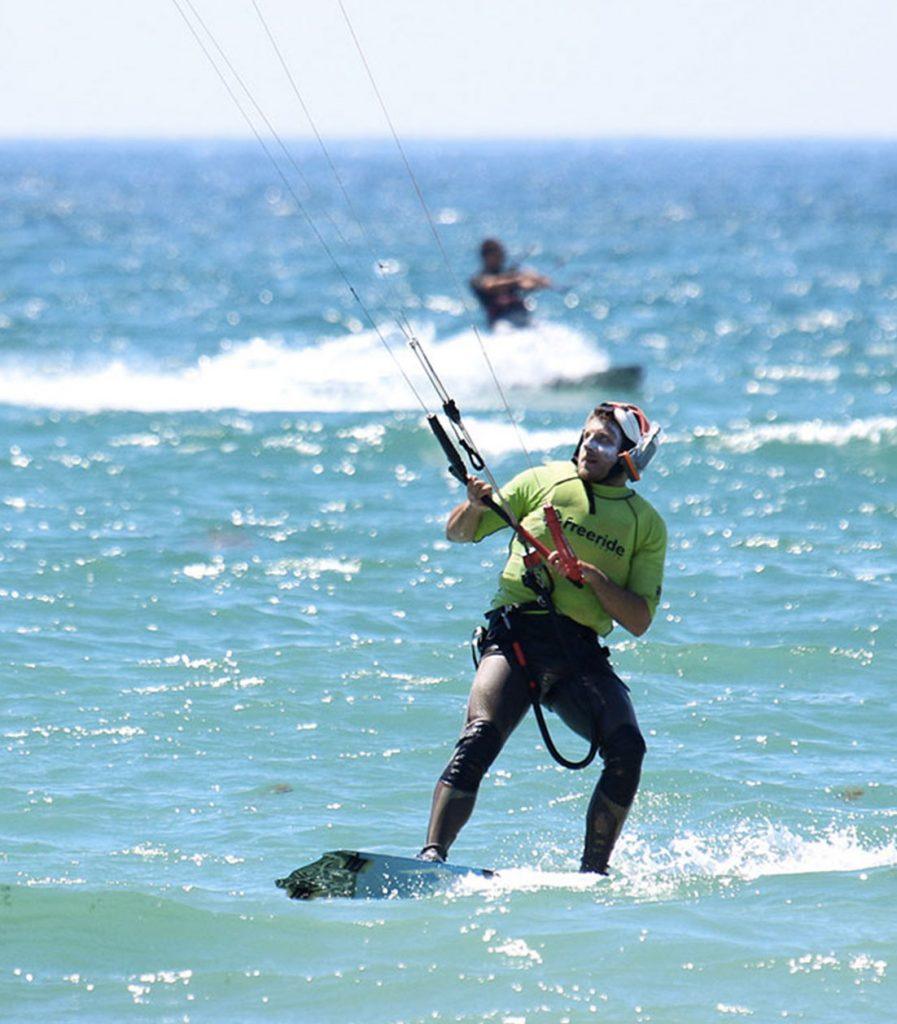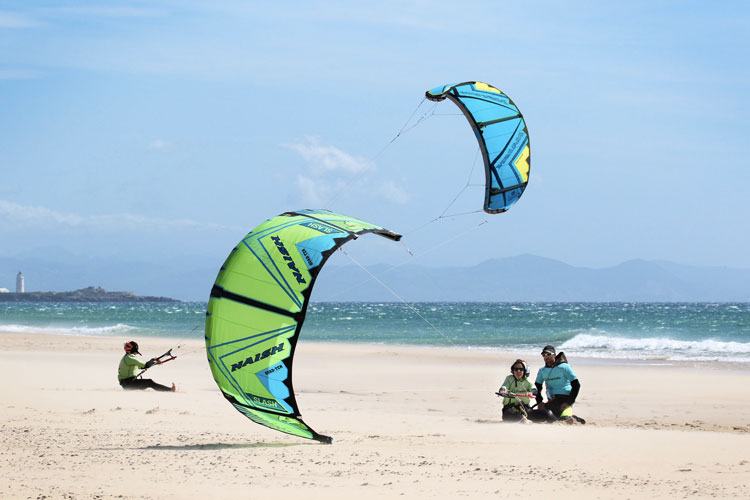 Kite control.
Wind direction
Wind window
Kite set-up
Safety procedures
Piloting
Body drag.
Relaunch from the water
Self-rescue procedures
Driving the kite in the water
Controlling the power
Upwind body drag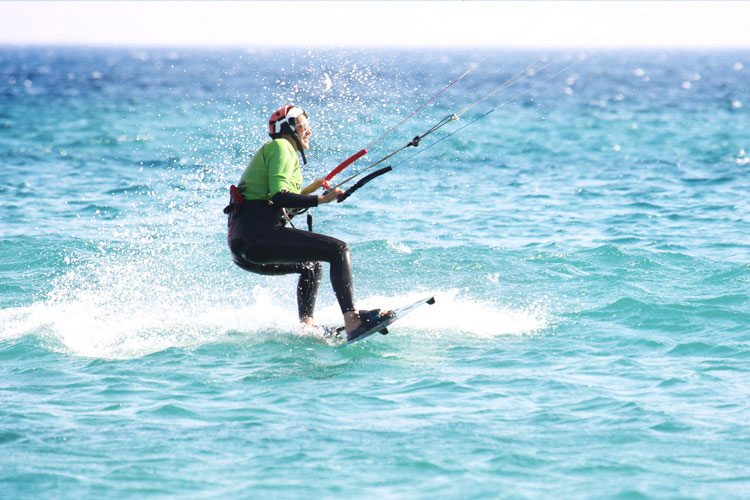 Waterstart.
Kite position
Board position
Body position
Propulsion on the board
Direction and balance
1 HOUR - 25€
Supervision
If you're familiar with the kiting basics, but you're not quite ready to go it alone, we also offer kitesurfing supervision. Requirements are:
Relaunch the kite in the water
Recover the board in body drag
Ride upwind
It's not a lesson, it's peace of mind for when you're out in the water solo. One of our instructors will stay with you on the beach and keep an eye on you. They'll help you launch and land as well as assist you in case you run into any problems.
Our References
Wind a little capricious (it's nature) but a big thank you to FRT for its availability and service that allowed me to ride every day.
Fabien Frossard
We had three fantastic days of kitesurfing. The wind conditions were great, the equipment was high quality and the lessons easy to follow. The perfect place for progress!
Clément Schambel
Very professional lessons. Patient instructors, brand new equipment, great location and great ambiance. The best for a fantastic kite experience.
Thomas Couyotopoulo
KITE LESSONS OVERVIEW
What you can expect
Take a look at our photo gallery and get a glimpse
of the action that awaits you during a kitesurfing class.