The best places to eat in Tarifa
The best places to eat in Tarifa
https://freeridetarifa.com/wp-content/uploads/2018/10/The-Best-Places-To-Eat-In-Tarifa-TapasEspagnol-freeridetarifa.jpg
1000
1000
Freeride Tarifa
Freeride Tarifa
https://freeridetarifa.com/wp-content/uploads/2018/10/The-Best-Places-To-Eat-In-Tarifa-TapasEspagnol-freeridetarifa.jpg
Enjoy the delicious Andalusian food in Tarifa
Even if Andalucia is best known for its beaches, its kiteboarding and sunny weather, food plays a massively important part in Spanish culture.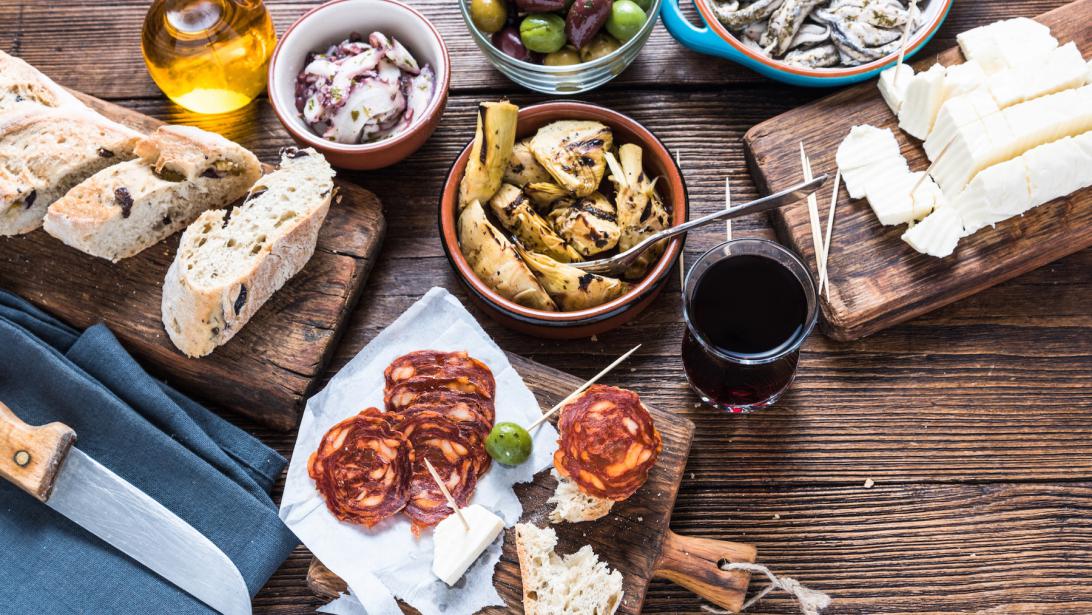 If Tarifa is well known for its excellent wind conditions for kiteboarding and windsurfing, you will surely be very pleasantly surprised by the wealth of culinary products they have to offer from fish to meat.
Thanks to the diversity of the landscape and climate, the variety and quality of local products in Andalusia is awesome! The culinary heritage, left by people who lived in this land (North African, Moors, Christians, Jews, and Romans) also gave this region a rich and varied gastronomy, that I am sure you will appreciate.
Traditional Andalusian cuisine ranks now as a culinary art and eating out is a big part of the local culture. So if you are looking for a good place to stay with great food, great wine, socializing and nightlife in a kiteboarding spot, don't hesitate! Contact us!
The Best Breakfast in Tarifa

The Surla is renowned for serving one of the best breakfasts of any Tarifa. You can start the day with something salty, like a scrumptious Italian-style egg or if you prefer sweets try the Chía-Rlie Brown, a chia pudding with coconut… it's gorgeous! But the options are many so go for a ride.
The place is spacious and comfortable with a surfer decoration reminiscent of California. Outside, a terrace with several tables and in the background a beautiful view of the blue sea of Balneario.

Andrea's Brunch is one of those places that you can not miss. A small and cozy place where you will find one of the best offers of healthy food in Tarifa. Salads, fruit bowls, toasts and bruschettas, sweet and salty crepes, scrambled eggs, natural smoothies…
Everything in Andrea's shows delicacy. The presentation of their dishes, the decoration of the place and even the atmosphere that is breathed in it. Everything is cooked at last minute, so if you are in a hurry, this is not your place. Andrea's is a place to stop, enjoy and let yourself be pampered.

If you intend to stop by the Café Azul, you will have to bear in mind that it only opens in the mornings, from 9:00 a.m. to 3:00 p.m. Within that schedule, you can go for breakfast, brunch or lunch.
In their menu you will find a wide variety of sweet and savory dishes that will delight your breakfasts. Natural juices and smoothies, colorful fruit bowls with yogurt and muesli, sweet and salty crepes, toast with oil, with avocado, or with cheese and tomato. There are options for all tastes! If you prefer, you can choose the typical breakfast with homemade bread and sweets, or give a try to their plate of eggs and bacon, or with salmon for a chute of energy.

Hours I would spend sitting at Café 10 Tarifa! it is one of the most pleasant and entertaining sites of the center of Tarifa. You will find it in the "Pueblo", in the old town of Tarifa, in a little white street that goes down from the Puerta de Jerez. It is the perfect place to stop not only for breakfast, but at any time of the day. It is a small and cozy place with a little terrace. Inside on its walls, you will find exhibitions of local artists.
The typical thing is to go for the breakfast, brunch or snack. Although it is open continuously all day, from 9:00 to 02:00 in the morning, so you can also go to lunch, dinner or even for a drink.
The best tapas bar in Tarifa
Silos 19 / Bar El Frances

There are not only good kitesurfing sessions in Tarifa, let's not forget the good tapas that showcase many specialties of the region (Tuna, Octopus, Iberian Porcs, Red Meat …).
If you want to enjoy the delicious food at one of the best Spanish tapas bar in Tarifa, you definitely have to go at the Silos 19 or El Frances. It's the same owner, so you will find alsmost the same dishes in these both restaurants. They don't accept reservations so you have to come early if you want to enjoy a super dinner in a great atmosphere! No matter what you choose, you'll definitely fall in love with the quality and the taste of their dishes. Noteworthy is the amazing interior design of the Silos 19 which is rather unexpected given the outer appearance of the restaurant. We suggest you to go for a sunset drink on the rooftop of the Silos, before start your dinner. (Average price: 25 euros)

The most flamenco site in all of Tarifa! The Lola is an Andalusian tavern with modern air. It has become a benchmark among Tarifeño restaurants, and not only for its striking staging with its polka dot tablecloths, its friendly waiters with flamenco aprons and its original decoration, but also for its excellent cuisine.
In El Lola, you eat dishes and tapas to share. There are the classics, such as the salad of prawns, croquettes, potatoes aliñás, ham del rico, salmorejo, or their tortilla de patatas made at the moment. And the creative touches, with his avocado salad with wasabi, the ceviche or the montadito of tuna with wakame. But if there is something that stands out in El Lola, it is its exquisite almadraba red tuna (certified). Sashimi, tataki, tartar, ventresca … You'll want to try everything! My recommendation is to order several dishes and enjoy the different textures and nuances of the tuna. The quality is supreme!

The same owners of Café 10. This "Gastrobar" will seduce you by its cocina sencilla (simple food) and the Spanish original creations they make. You will enjoy the multitude of choices they have : tapas, ricotta ravioli, curried chicken, sweet-potato fries, carrot-and-mozzarella salad, gambas tempura, tuna, pulpo, ect. and good choice of wine.
They have also some vegetarian dishes. The restaurant is small but really stylish and charming. We'd recommend booking or getting there early. (Average price : 25 euros)

In the heart of Tarifa, near the harbor, this Andalusian restaurant will seduce you by its delicious and traditional food. You will meet lot of local people. The simplicity and the quality of the products they use for their cuisine, will show you the best of the sea and land products from Cadiz area.
You should try the Voraz, a fish that you can only find in this area of Spain and it's deliciously cooked with ham and prawns. This is real andalusian style of cooking and it needs to be tasted. Waiters are good and friendly, they will do their best to speak english.
The best seafood restaurants in Tarifa

When you spend your holidays close by the sea, you expect to eat good seafood. Going to La Pescadería in Tarifa is always a success and a safe bet.
A restaurant dedicated exclusively to seafood that puts the best of the Strait of Gilbraltar and the coast of Cadiz on your table. His bet is clear, good raw material, freshness and a lot of pampering in the kitchen. This, added to its good value for money, has made it one of the best rated and most visited restaurants in Tarifa.
As soon as you enter, the marine atmosphere invades you with its decoration. They have a nice dining room inside, but it is more palatable to sit on their terrace located on the Paseo de la Alameda. Its cuisine is traditional but with some original touches. His specialty is the local fish, tuna and seafood rices. Don't miss the fried squid and the tuna sashimi as well as their sangria. In summertime, they accept booking but not after 9.30pm.

For those of you who visit Tarifa and go kiteboarding in Valdevaquesros beach, you will probably have heard of "Punta Paloma", a gorgeous white sandy beach. Take the Direction of Punta Paloma, drive along this road for about 2 km. until you come to a fork in the road. Keep right at the fork, approaching a sign that says "Military zone". You will pass through some sand dunes either side, a very atypical landscape. Keep going until you will see a small sign that says " El Mirlo" to start your best experience with delicious local fishes.
It is a charming, rustic and typically Spanish restaurant. They have an amazing terrace overlooking the sea. They offer fresh fish of the day and various daily specials as well as excellent quality steak, pork and kebabs for those who doesn't like seafood.
The best steak houses in Tarifa

If you are crazy about meat, you will fall in love with this place! They prepare it on the grill, juicy and tasty served on skewers or with a salad and homemade seasoned potatoes with a special sauce. If you need a tip, go there after your kite session It will match perfectly your starving stomach. In summer, if you want to catch a table you have to go early there (around 8pm).
As the restaurant is located in the main street where there is all the bars, it's better to not go there not too late in high season if you want to be able to talk around the table with your friends. The nightlife starting in the historic center of Tarifa where the restaurant is located.
Ventorillo El Nene (Fascinas)

Like the previous one, if you're in love with meat, take your care and go to Facinas, a small Andalusian village, 20 minutes from Tarifa in the heart of the natural park of Los Alcornocales.
In this welcoming and family inn you will enjoy all sorts of meat : deer, pheasant, wild boar, etc., and many other specialities such as garlic soup, bull's tail or tuna. This restaurant serves really good quality barbecued meat – cooked over a charcoal fire. The decor is really authentic and Spanish style with lots of bullfighting memorabilia and bull heads. A little bit pricey but worth every cent.
The best Vegan/Veggie restaurants in Tarifa

This center is not only a restaurant. If you go there you will find differents things which promote health, environmental proctection and social justice : a library, an eco-shop, natural cosmetics, a holistic center with yoga, pilates, massages, natural medicine, etc.
The restaurant is vegetarian and open all day long. They also make pizzas cooked in a wood oven. Sometimes on weekend , they organize live music events so if you want to enjoy good food and good music after a kiteboarding session, you definitely have to come here.

Vegetarian, vegan and gluten free options in this restaurant.
After an hard day's kite fighting in the water, you will love this place. Local, healthy and seasonal ingredients and products, this restaurant-cafe will seduce you thanks to the creativity and the interesting fusion they make. On the waterfront, you will eat face to Africa in a relaxing and warming atmosphere.
The menu is small to ensure the quality. The staff is attentive, passionate and describe the dishes with such a glamour that you feel that you're already tasting them! The specialities, the Black Rice dish and the Mushrooms dish will make you quiver.
Average price: 34 euros for 2 paellas and one starter, with 2 copas of tinto de Verano.
Did we miss something?
Let us know what's your favourite place to eat in Tarifa?
Leave us your suggestions in a comment!
This site uses Akismet to reduce spam. Learn how your comment data is processed.