The best places to eat in Tarifa
The best places to eat in Tarifa
https://freeridetarifa.com/wp-content/uploads/2018/10/The-Best-Places-To-Eat-In-Tarifa-TapasEspagnol-freeridetarifa.jpg
1000
1000
Freeride Tarifa
Freeride Tarifa
https://freeridetarifa.com/wp-content/uploads/2018/10/The-Best-Places-To-Eat-In-Tarifa-TapasEspagnol-freeridetarifa.jpg
The Best Places Where To Eat In Tarifa
Even if Andalucia is best known for its beaches, its kiteboarding and sunny weather, food plays a massively important part in Spanish culture.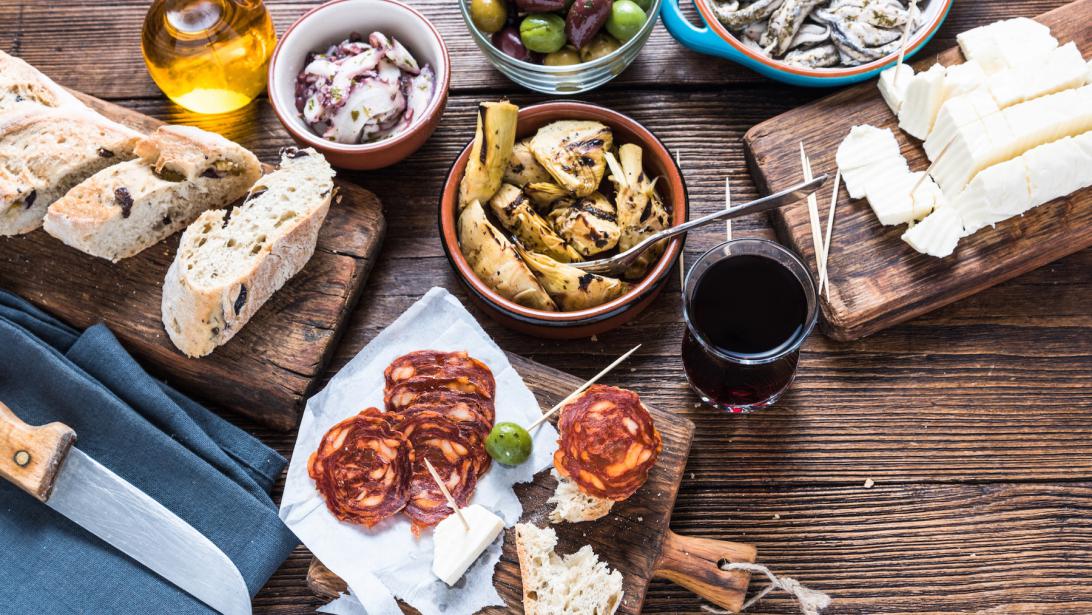 If Tarifa is well known for its excellent wind conditions for kiteboarding and windsurfing, you will surely be very pleasantly surprised by the wealth of culinary products they have to offer from fish to meat.
Thanks to the diversity of the landscape and climate, the variety and quality of local products in Andalusia is awesome! The culinary heritage, left by people who lived in this land (North African, Moors, Christians, Jews, and Romans) also gave this region a rich and varied gastronomy, that I am sure you will appreciate.
Traditional Andalusian cuisine ranks now as a culinary art and eating out is a big part of the local culture. So if you are looking for a good place to stay with great food, great wine, socializing and nightlife in a kiteboarding spot, don't hesitate! Contact us!
The Best Breakfast & Brunch In Tarifa

The Surla is renowned for serving one of the best breakfasts of any Tarifa. You can start the day with something salty, like a scrumptious Italian-style egg or if you prefer sweets try the Chía-Rlie Brown, a chia pudding with coconut… it's gorgeous! But the options are many so go for a ride.
The place is spacious and comfortable with a surfer decoration reminiscent of California. Outside, a terrace with several tables and in the background a beautiful view of the blue sea of Balneario.

Andrea's Brunch is one of those places that you can not miss. A small and cozy place where you will find one of the best offers of healthy food in Tarifa. Salads, fruit bowls, toasts and bruschettas, sweet and salty crepes, scrambled eggs, natural smoothies…
Everything in Andrea's shows delicacy. The presentation of their dishes, the decoration of the place and even the atmosphere that is breathed in it. Everything is cooked at last minute, so if you are in a hurry, this is not your place. Andrea's is a place to stop, enjoy and let yourself be pampered.

If you intend to stop by the Café Azul, you will have to bear in mind that it only opens in the mornings, from 9:00 a.m. to 3:00 p.m. Within that schedule, you can go for breakfast, brunch or lunch.
In their menu you will find a wide variety of sweet and savory dishes that will delight your breakfasts. Natural juices and smoothies, colorful fruit bowls with yogurt and muesli, sweet and salty crepes, toast with oil, with avocado, or with cheese and tomato. There are options for all tastes! If you prefer, you can choose the typical breakfast with homemade bread and sweets, or give a try to their plate of eggs and bacon, or with salmon for a chute of energy.

Hours I would spend sitting at Café 10 Tarifa! it is one of the most pleasant and entertaining sites of the center of Tarifa. You will find it in the "Pueblo", in the old town of Tarifa, in a little white street that goes down from the Puerta de Jerez. It is the perfect place to stop not only for breakfast, but at any time of the day. It is a small and cozy place with a little terrace. Inside on its walls, you will find exhibitions of local artists.
The typical thing is to go for the breakfast, brunch or snack. Although it is open continuously all day, from 9:00 to 02:00 in the morning, so you can also go to lunch, dinner or even for a drink.

Power House Cafe is a trendy healthy breakfast and brunch restaurant right on the way to your favorite kite spot. Lots of vegetarian and vegan options and possibly the best açaí bowl in the area. The crew is young and talented, seems like everyone speaks English and the place is dog friendly.
If you are looking for a place to work, this is a good place. You can sit outside or inside. Try their baked goods with coffee or the salmon bowl with toast, it's perfect. Open from 9:30 till 16:00 and plenty of parking. Prices may be a bit steeper comparing to other breakfast places but it's worth it.

Very cool place to have late breakfast in front of the beach. This café bar opens at 10:00 and closes at 22:00, so you can come back for a drink! The sunset looks beautiful from there.
The staff is great, very welcoming and speaks many languages. They've got the view on the beach with wind covers, can't beat that when it's windy! Yummy toasts, açaí bowl, yogurt with fruits bowl, smoothies, all the good things. The food is simple yet very tasty and the prices are fair given their location. Say hi to their dog Bobby from us!

A nice place to have a quiet breakfast or brunch. Wide variety of tostadas, açaí bowls, crepes, smoothies, natural juices and quality coffee as well as poke bowls! In addition, you can even buy painted pictures that decorate the place. You will be nicely taken care of here. Vegan and gluten-free options available. Open from 9:00 till 17:00.

Top-notch place for a flavorful breakfast in Tarifa. The passionate owner brings a warm atmosphere to the whole place. Super fresh food, clean environment and lovely interior. On the menu you can find tostadas, pancakes, brioche, french toast, granola bowls, smoothies, sandwiches, wraps, croissant, gofers and delicious tea and coffee. Gluten-free and vegan options.
They also offer cooking classes, which you can book online on their website! Open daily from 9:00 till 14:00. You can also order it take-away with eco packaging! Close to Mercadona grocery store, with free street parking outside. Reservations available. Well worth looking up if in the area.
Banana Republic Café Tarifa

Another breakfast place nearby Mercadona, open from 9:00 till 16:00. Offers breakfast, brunch or late lunch. Homemade cakes, big and hearty bagels, focaccia sandwich, granola and açaí bowls, toasts, smoothies and a strong coffee. Serves meat but vegan options available as well.
Comfortably furnished and the internet is super fast, download and upload speeds are amazing too if you are a digital nomad working remotely. There is a second floor with AC and fan for hot days as well!

This place checks all the boxes and we really like it! It feels like a comfortable, cozy and clean environment and the fact that you can charge your devices makes it even better. Great balance between prices and portions of the food. They source their products locally and everything they serve looks appetizing. Natural juices, smoothies, organic teas and infusions, coffee, wines from the province of Cadiz…
To eat, enjoy some tostadas, croissant, free-range eggs, special toasts and crepes, filling pancakes, and fruit and açaí bowls! They open at 9:00 and in the afternoon they also serve lunch! Worth checking out if you are in the area or plan a walk to playa Chica or the port.
The best tapas bar in Tarifa

There are not only good kitesurfing sessions in Tarifa, let's not forget the good tapas that showcase many specialties of the region (Tuna, Octopus, Iberian Porcs, Red Meat …).
If you want to enjoy the delicious food at one of the best Spanish tapas bar in Tarifa, you definitely have to go at El Frances. They don't accept reservations so you have to come early if you want to enjoy a super dinner in a great atmosphere! No matter what you choose, you'll definitely fall in love with the quality and the taste of their dishes.

The most flamenco site in all of Tarifa! The Lola is an Andalusian tavern with modern air. It has become a benchmark among Tarifeño restaurants, and not only for its striking staging with its polka dot tablecloths, its friendly waiters with flamenco aprons and its original decoration, but also for its excellent cuisine.
At El Lola, you eat dishes and tapas to share. There are the classics, such as the salad of prawns, croquettes, potatoes aliñás, ham del rico, salmorejo, or their tortilla de patatas made at the moment. And the creative touches, with his avocado salad with wasabi, the ceviche or the montadito of tuna with wakame.
But if there is something that stands out in El Lola, it is its exquisite almadraba red tuna (certified). Sashimi, tataki, tartar, ventresca … You'll want to try everything! My recommendation is to order several dishes and enjoy the different textures and nuances of the tuna. The quality is supreme!

The same owners of Café 10. This "Gastrobar" will seduce you by its cocina sencilla (simple food) and the Spanish original creations they make. You will enjoy the multitude of choices they have : tapas, ricotta ravioli, curried chicken, sweet-potato fries, carrot-and-mozzarella salad, gambas tempura, tuna, pulpo, ect. and good choice of wine.
They have also some vegetarian dishes. The restaurant is small but really stylish and charming. We'd recommend booking or getting there early.

In the heart of Tarifa, near the harbor, this Andalusian restaurant will seduce you by its delicious and traditional food. You will meet lot of local people. The simplicity and the quality of the products they use for their cuisine, will show you the best of the sea and land products from Cadiz area.
You should try the Voraz, a fish that you can only find in this area of Spain and it's deliciously cooked with ham and prawns. This is real andalusian style of cooking and it needs to be tasted. Waiters are good and friendly, they will do their best to speak english.

This place has a real Spanish feel with genuine, home cooked food and satisfying portions. Don't be put off by the scruffy look! El Tapeo is frequent by locals which is always a good sign on its own! The lovely atmosphere will be a good addition to appetizing meals.
The "choco croquetas" (cuttlefish) are packed with flavor and fried to perfection. Galician style octopus is mouthwatering… Calamari, sardines, meat dishes, salads, homemade desserts etc. Thin and tasty batter… This is the spot for the catch of the day and everything fresh made to order. Good value for money and helpful staff. Don't be surprised if they run out of their most popular items!

Even thought La Burla is located on one of the most touristic streets of Tarifa, stay assured that this is not a tourist trap. They serve delicious Italian and Spanish food, offering breakfast menu in the morning with options for all tastes plus the coffee is delicious. They have high chairs for children and are dog friendly.
For tapas, try their fried shrimp, mussels, pork cheeks, prawn skewers with zucchini, goat cheese with vegetables and croquettes carne, you won't be disappointed. Or hang around and enjoy a cup of coffee and chocolate cake with coffee mousse. Cold beer and good vibes? Yes! This place is a local favorite and a tourist favorite, offering outdoor seating right by the port. Give it a go!

Only locally sourced food: retinto meat, tuna, a variety of fish and seafood. The Crispy Tuna is an explosion of flavors for the palate. Korean chicken, croquettes, risotto, langoustines in garlic and Parmesan… add their brilliant brownie for dessert. Festival of flavors! Also, decent choice of wines and local craft beers. Delicious food, fast service, good prices; in addition, you will be very well taken care of by the staff.

Don't hesitate to ask your waiter for recommendations – they won't try to push the most expensive dishes and wines, only the selection that they themselves are convinced of. We recommend trying any of the tuna dishes (the truffle marinated tuna toast is amazing), the spinach and pine nut croquettes or the salmorejo. In addition to a good selection of original tapas (Spanish cuisine with other European influences), the restaurant also offers very good meat dishes, such as entrecote or beef fillet. To drink, try their Sangria! The overall price-performance ratio is right, about €10 – €30 per person.
This 19th-century home with typical Andalusian architecture and hints of a Moorish influence is located on a very lively street with many other bars and cafes. The seating outside consists of bar stools at high tables and you sit practically in the middle of people strolling by and with Spanish guitar music from a street musician in the background. The service is fun and everyone is very attentive.

Here you can taste a spectacular sirloin, pure butter… and it has that peculiar flavor due to the marinade that is homemade. The tomato with roque, the scrambled eggs with aubergine, or the artichokes with ham. By the way, the hams that you see hanging are from their own pigs. The service is fun and very educated. They don't take reservations!
Small and narrow Andalusian bar, hidden in the alleys of Tarifa's old town. On its walls hang all kinds of bullfighting and flamenco motifs. They open at 7:30pm and at 8pm they are full… Even though it fills up quickly, people don't seem to care, because they still find their place at the bar to order their tapas and beer and then go out in the street to enjoy them! There are few tables outside.
The best seafood restaurants in Tarifa

As soon as you enter, the marine atmosphere invades you with its decoration. They have a nice dining room inside, but it is more palatable to sit on their terrace located on the Paseo de la Alameda. Its cuisine is traditional but with some original touches. His specialty is the local fish, tuna and seafood rices. Don't miss the fried squid and the tuna sashimi as well as their sangria. In summertime, they accept booking but not after 9.30pm.
A restaurant dedicated exclusively to seafood that puts the best of the Strait of Gilbraltar and the coast of Cadiz on your table. His bet is clear, good raw material, freshness and a lot of pampering in the kitchen. This, added to its good value for money, has made it one of the best rated and most visited restaurants in Tarifa.
When you spend your holidays close by the sea, you expect to eat good seafood. Going to La Pescadería in Tarifa is always a success and a safe bet.

The site has parking and then a terrace from which you can see the beaches of Tarifa and African coast. In front of the terrace, there is a vineyard where you can have aperitif before your meal. The interior dining room has a fireplace, stone walls and antiques for decoration. The location is perfect for a special dinner, you can eat for 25 – 70 euro per person. It is an experience well beyond gastronomy.
If we were to classify the restaurants with the best views, no doubt that El Tesoro, in Betijuelo, would be in the top three. Extraordinary views of the African coast and the beaches of Tarifa, the setting of El Tesoro (which translates to treasure) is iconic, with views of the Strait, Tangier, Ceuta and Tarifa. Located only 20 min away from Tarifa's center, between the beaches of Bolonia and Valdevaqueros.
Fish or Meat… Their options are largely based on the grill with northern influences from Basque region – Tomahawk, the T-Bone, the low tenderloin and the old cow chop. And in fish – almadraba bluefin tuna and turbot as a hallmark, also grilled. Also other fish depending on the season. Well-kept wine cellar and home-made desserts.

It is a charming, rustic and typically Spanish restaurant. They have an amazing terrace overlooking the sea. They offer fresh fish of the day and various daily specials as well as excellent quality steak, pork and kebabs for those who doesn't like seafood.
For those of you who visit Tarifa and go kiteboarding in Valdevaquesros beach, you will probably have heard of "Punta Paloma", a gorgeous white sandy beach. Take the Direction of Punta Paloma, drive along this road for about 2 km. until you come to a fork in the road. Keep right at the fork, approaching a sign that says "Military zone". You will pass through some sand dunes either side, a very atypical landscape. Keep going until you will see a small sign that says " El Mirlo" to start your best experience with delicious local fishes.
The best steak houses in Tarifa

As the restaurant is located in the main street where there is all the bars, it's better to not go there not too late in high season if you want to be able to talk around the table with your friends. The nightlife starting in the historic center of Tarifa where the restaurant is located.
If you are crazy about meat, you will fall in love with this place! They prepare it on the grill, juicy and tasty served on skewers or with a salad and homemade seasoned potatoes with a special sauce. If you need a tip, go there after your kite session It will match perfectly your starving stomach. In summer, if you want to catch a table you have to go early there (around 8pm).
Ventorillo El Nene In Facinas (15min from Tarifa)

In this welcoming and family inn you will enjoy all sorts of meat : deer, pheasant, wild boar, etc., and many other specialities such as garlic soup, bull's tail or tuna. This restaurant serves really good quality barbecued meat – cooked over a charcoal fire. The decor is really authentic and Spanish style with lots of bullfighting memorabilia and bull heads. A little bit pricey but worth every cent.
In this welcoming and family inn you will enjoy all sorts of meat : deer, pheasant, wild boar, etc., and many other specialities such as garlic soup, bull's tail or tuna. This restaurant serves really good quality barbecued meat – cooked over a charcoal fire. The decor is really authentic and Spanish style with lots of bullfighting memorabilia and bull heads. A little bit pricey but worth every cent.

Truly, they are experts in meats, both raw (great tartar toast) and grilled. The grilled fish are also spectacular (especially the octopus). Although the quality is impeccable, people say that the best thing about the restaurant is their service. Generous portions, fair prices, plenty of parking, friendly place full of locals. You may be able to come with your furry baby but make sure to ask in advance. If you want to eat quality meat and enjoy a good meal, without a doubt, El Rancho is your place.
This is a must when in the area, you can get here by foot after your kite session – it's a 10-minute walk from Los Lances Beach. El Rancho is a unique place, an old farmhouse in the traditional Tarifeño style surrounded by nature. The gastronomic offer is traditional in style with typical homemade stews, various types of grilled meat, especially beef that is prepared on a charcoal grill. Try their carne de res tinto, a local smaller cow with ginger fur, the beef is soft like butter. Also Iberian meats and lamb. Amazing desserts.
The best vegan/veggie restaurants in Tarifa

The restaurant is vegetarian and open all day long. They also make pizzas cooked in a wood oven. Sometimes on weekend , they organize live music events so if you want to enjoy good food and good music after a kiteboarding session, you definitely have to come here.
This center is not only a restaurant. If you go there you will find differents things which promote health, environmental proctection and social justice : a library, an eco-shop, natural cosmetics, a holistic center with yoga, pilates, massages, natural medicine, etc.

The menu is small to ensure the quality. The staff is attentive, passionate and describe the dishes with such a glamour that you feel that you're already tasting them! The specialities, the Black Rice dish and the Mushrooms dish will make you quiver.
Vegetarian, vegan and gluten free options in this restaurant. After an hard day's kite fighting in the water, you will love this place. Local, healthy and seasonal ingredients and products, this restaurant-cafe will seduce you thanks to the creativity and the interesting fusion they make. On the waterfront, you will eat face to Africa in a relaxing and warming atmosphere.

Beside serving veggie based meals, they also make their own cakes and cupcakes which you can pair with the great tea selection. Bhajis and falafel are just sublime. The wraps (especially the smoked tofu and the halloumi) will make you want to come back! Chilimosa also offers local craft beers and vegan wines. Try the local craft 'donkey ale', it's lovely. Food is prepared ahead of time and placed on a counter for reheating upon order. Perfect place for a quick meal if you're taking the ferry to Tangiers Morocco.
Located inside the Medina Gate, this restaurant has been cooking up vegetarian and vegan dishes for 17 years (as of June 2023)! Although it's a small place, the food is delicious and abundant with lovely service.
The Best fusion restaurants in Tarifa
Santai sources local products with exotic flavors of ginger, basil, coconut, lime, coriander with attention to tuna! Try a little bit of everything. The red tuna loin with sunflower sprouts and exquisite snow peas, crunchy artichokes, the croquettes, or the clams. The experience of imaginative dishes does make it worthy of a mandatory stop for everyone who visits Tarifa. Book in advance, it gets full easily.
Santai means Relaxed in Indonesian and this is what Santai Tarifa exudes, the feeling of calmness and presence of wellbeing. Take a rest in their outdoor seating and travel through a fusion of Asian, Latin and Mediterranean cuisine.

They have a really nice authentic decoraction with such a nice Wine carte. Fish or meat, both are delicately served in atypical recipes, to titillate your taste buds.
Some revisited spanish specialities with a nice original flavor such as their Tataki Of Pluma Iberica… Have you already eaten rare porc meat?! Simply gorgeous. Basilic ice cream and other dishes will really surprise you, we can only recommend it.

The spot is well known for its impeccable service and friendly staff. If you are looking for healthy yet fun cuisine and casual vibe, this is the place. They accept reservations.
La Morena is a casual restaurant in the heart of the old town of Tarifa. It offers products from local suppliers, dishing up creative seafood options, bao buns and tacos. Their dishes are made with Asian and South American techniques, providing a delectable and refreshing dinning experience.

The menu changes seasonally and is always clear and not overloaded – in every area there are not only modern interpreted classics but also fine new ideas that can be assigned to fusion cuisine. Dishes are full of nuances, different flavors blended into the same dish and super well presented. At Raizes, you can rely on attentive staff, they will be happy to answer any questions and help with wine recommendation.
Located on the less busy side of Tarifa's old town, Restaurant Raizes is another place on our list not to be missed. The owners say that they care about 3 things: cooking, music and you. They will even share their Spotify playlist with you if you ask! With both interior and terrace seating options, you will find yourself in a pleasant and quiet atmosphere.
The spot is known for its ample portions, high level of quality and fast service. Have a date with Souk and check out their all day Fingerfood Friday Buffet. For €17 (no drinks included) you can serve yourself as many times as you want. Better make a reservation if you plan to visit them on Friday.
The Souk is a cozy restaurant serving fusion food of Moroccan, Indian and Thai dishes. Think couscous, lamb and perfectly cooked tapas at affordable prices. Tucked away from the busy part of Tarifa, it offers an intimate Moroccan ambience, so it is great for anything from a romantic dinner to a relaxing family meal.

If you get hungry, their offer includes sushi and variations of Spanish seafood and international side dishes. The prices are quite high but if you eat here, you can park your car in their private parking lot for 12 hours.
Conveniently located on top of the Puerta Jerez, close to the old town, this restaurant has some beautiful views of Tarifa and African coast. Lounge ambience and an upscale feel makes this place perfect for a romantic evening and a drink with your partner or a friend (excellent drinks, so you can come just for that!). Some Saturdays you can also enjoy DJ Set.

Open for dinners between Wednesday and Saturday from 20:00 till 22:30. Lunches are served between Saturday and Sunday from 13:30 till 15:30. Reservations available. Expect to spend at least 25-60 euro per person.
What a hidden gem! Located in the heart of Tarifa, in a manor house from 1868. Serves marvelous Spanish food with a modern touch, perfect service, lovely ambiance. The menu exists of a sweet mix of fish and meat, all dishes are well-thought-out. Very cozy atmosphere with delicate lighting and professional attitude towards guests. They work with local and seasonal produce. Try their chopped creamy squid, glazed lamb shank or white prawn carpaccio.
Did We Miss Something?
Let us know what's your favourite place to eat in Tarifa?
Leave us your suggestions in a comment!
This site uses Akismet to reduce spam. Learn how your comment data is processed.