Top places to visit in Andalusia
Top places to visit in Andalusia
https://freeridetarifa.com/wp-content/uploads/2020/02/The-Best-Places-To-Visit-In-Andalusia-freeridetarifa.jpg
698
698
Freeride Tarifa
Freeride Tarifa
https://freeridetarifa.com/wp-content/uploads/2020/02/The-Best-Places-To-Visit-In-Andalusia-freeridetarifa.jpg
Andalusia: The Must-Sees
You're in Tarifa and the wind forecast is not looking very promising ? Well, no need to just stand around waiting for the wind to pick-up. Just go on an adventure!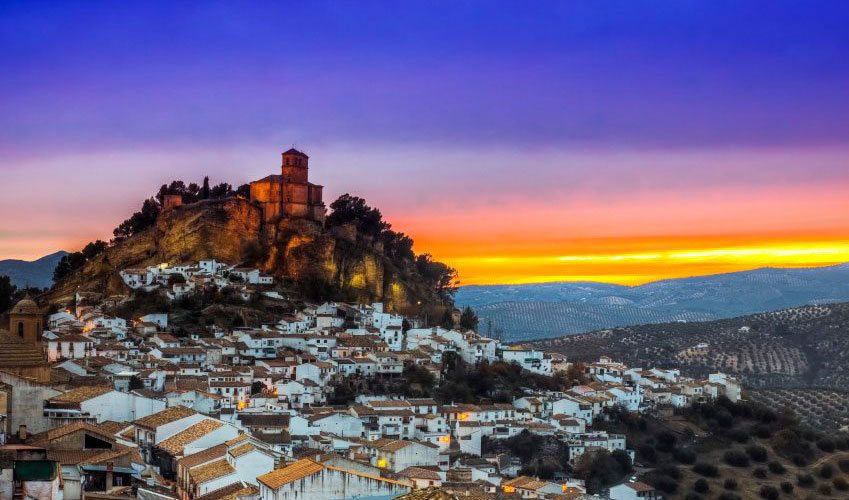 Andalusia is a wonderful live-storybook to be discovered. Surrounded on one side by the Atlantic Ocean and on the other by the Mediterranean Sea, Andalusia is located in the southernmost part of Europe and boasts an enjoyable climate.
Spend a sleepless night in the Triana district of Seville or explore Sierra Subbética's hills covered in olive trees. Discover the famous Alhambra of Granada and the wonders of Andalusian Renaissance architecture inland. Follow in Christopher Colombus's footsteps in La Rabida and walk the small roads of the Sierra de Grazalema, discovering the white villages… Enter the intimacy of Picasso's birthhouse in Malaga and take a breath of fresh air in the Alpujarras… Soak up in Andalusia's caliente atmosphere and explore places that vibrate to the rhythm of wild flamenco and férias.
An infinity of wonders, landscapes, gastronomic dishes and cultural delights awaits you… Here are our top 10 must-see places in southern Spain!
Andalusia – Cityside
Seville, Granada, Cordoba… Discover the cultural, artistic and social richness of the famous Andalusian cities.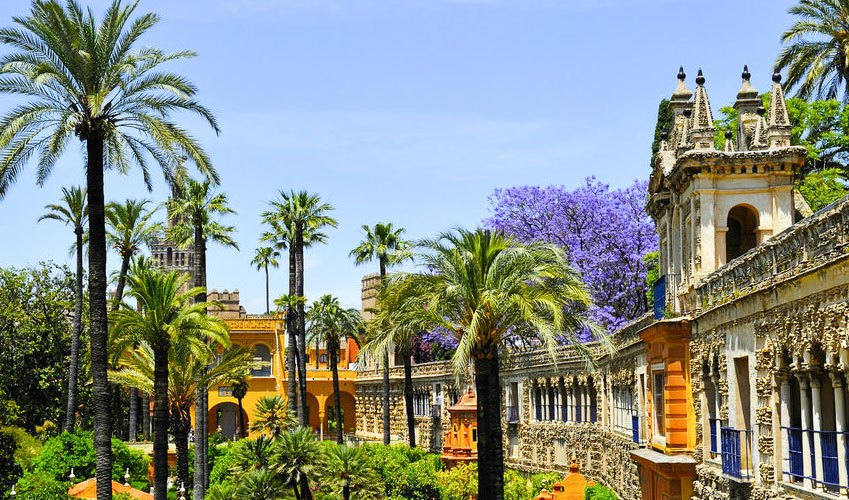 Seville, the fourth largest city in Spain and capital of the Andalusian autonomous community – also known as « The pearl of Andalusia » – is one of the Iberian Peninsula's flagship cities. Located on the banks of the Guadalquivir River, the Andalusian metropolis is home to many architectural gems.
Visit its cathedral with its magnificent vaults and organs. Don't miss its Giralda, an ancient minaret that has become the city's symbol bell tower. You should also visit the Alcázar, a group of palaces and patios, built by different Spanish monarchs, with majestic gardens. There are many other monuments to visit: medieval churches, monasteries, museums, colossal residences – such as 'Casa de Pilatos' – and of course, Seville's famous bullrings.
We couldn't write a guide forgetting about the nightlife in Seville! In the evening, you will never get bored of strolling around Santa Cruz's district, with its cobbled streets and tapas bars. Fancy some flamenco? Then head to the Triana district. You'll find lively shows as well as typical bars and bodegas to enjoy some great tapas with a glass of wine.
Seville is also famous for its Holy Week processions and the traditional « Feria de Abril ». Easter is therefore a perfect time to enjoy this atmosphere: traditional costumes, Jerez wine and flamenco music. At this time of year the weather is ideal for exploring the city on foot, so make the most of it!
Malaga
City of Picasso, Malaga offers great cultural richness, between traditions, architecture and local gastronomy.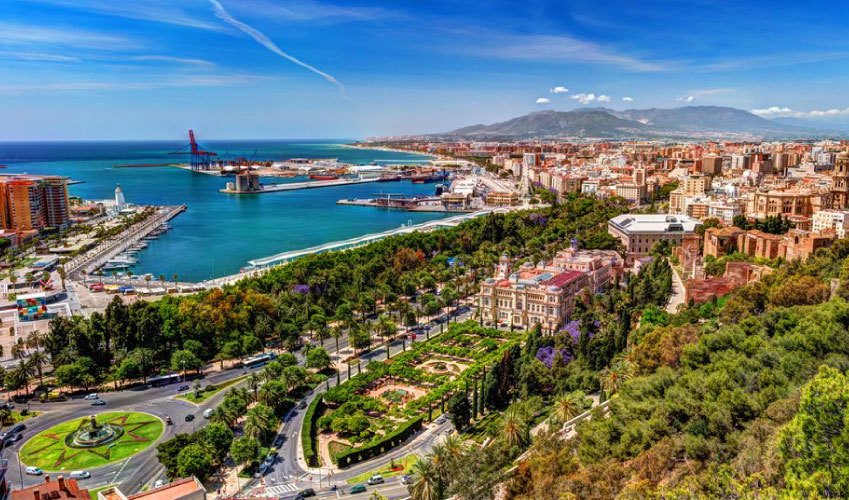 With its 30 years of museums, it is one of the cities where art and culture are part of the landscape. Visit Picasso's birth house and its famous museum, the Pompidou Centre located on the port of Muelle Uno, or the Thyssen Museum which displays more than 2600 works of 19th century Spanish and Andalusian painting.
The city is overlooked by the fortress of Gibralfaro, which protected the palace of the Alcazaba. You can visit its ramparts and climb to its summit to admire the remains of Arab architecture. You'll be enjoying a breathtaking view of the city's Mediterranean Sea side. If you visit the city centre, take a stroll through the famous central market of Atarazanas, where you can try a bite of local specialities: olives, fried almonds, dried figs, boquerones (anchovies) and other small fried fish.
Alternatively, you can stroll along the beaches and stop at a « chiringuito » -(beach bar) to savour a good grilled fish or sardines skewers. If you are travelling in August, you'll experience the festive atmosphere of the Málaga fair, an unmissable summer gathering!
Not to be missed: In the province of Málaga there is an atypical attraction – the Caminito del Rey or southern via ferrata. Warning! This activity is only for the intrepid ones who are not afraid of heights! Its footbridge runs along a narrow gorge is more than 400 metres hight and offers adventurers a spectacular scenery.
Cordoba
This magnificent city is a fusion of cultures and history, shaped by the mix of people and religions that have successively settled there over time.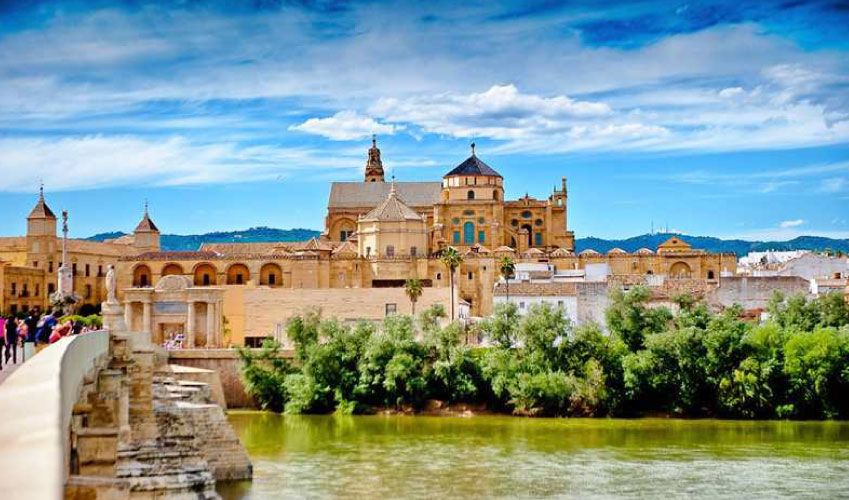 For instance its Mezquita de Cordoba is the most important Islamic monument in the West, and truly a must-see location. Classified as a UNESCO World Heritage Site, this Mosque-Cathedral is located in the centre of the touristic city of Cordoba. Its famous central entrance is composed of hundreds of red and white columns and arches.
Cordoba is also a must-see place in Andalusia during the Spring for its famous « Patios de Córdoba » celebration or its « Battle of the Flowers ».
Cordoba is a city on a human scale, so you can easily discover it on foot. The monuments and sites to visit are close to each other. Take the opportunity to have a nice walk full of stories.
Granada
Definitely the perfect escape for a romantic trip in Andalusia – especially at sunset!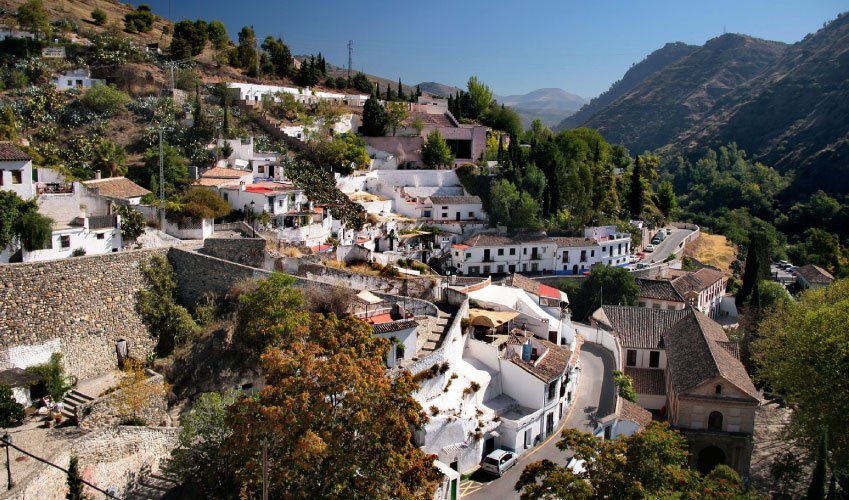 Granada is a charming city. You'll love its Sacramonte District's tiny streets, its cathedral and its secret squares from where you can see the snow-capped peaks of the Sierra Nevada.
While in Granada, the Alhambra is an unmissable sight. With its beautiful palace and gardens, this is a true masterpiece of the Arabic architecture, listed as a UNESCO World Heritage Site. Booking is highly recommended!
Finally, you can head out to the beaches along the Costa Tropical. This 19km long coastline has still some unspoilt beach with a mix of seascapes and mountainous scenery. Stop by the town of Almuñecar, a small gem with a subtropical climate and turquoise waters. Make sure to taste the local exotic fruits and fresh fish.
Andalusia – Inland
How can one fail to appreciate the majestic landscapes of Andalusia's landside ? With the Sierra Nevada – the mountain range connecting Granada and Almeria – the natural parks and typical villages, the inland also has many wonders to offer.
Ronda & the white villages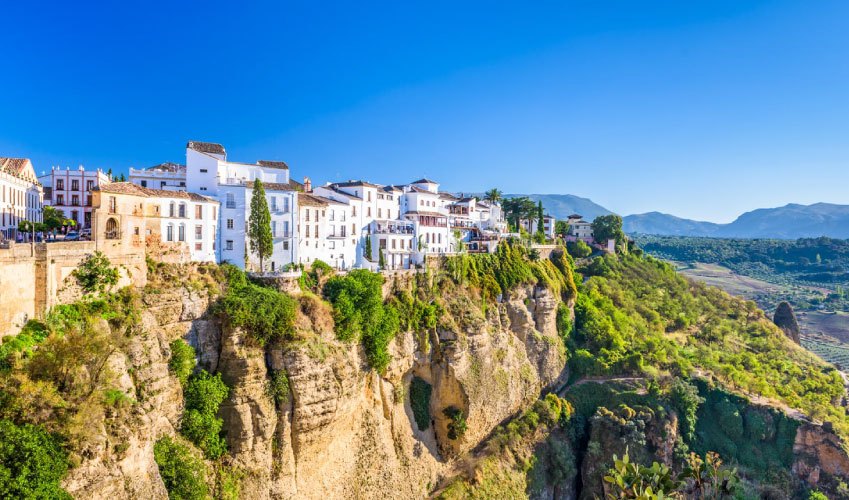 Ronda is a splendid city that sits on two hills separated by a deep ravine. The two sides of the village are connected by a triple-arched bridge, El puente Nuevo: « The Soul of Andalusia ». On one side there is the old town, with its beautiful and narrow streets, and on the other are the new town's bars, restaurants and shops. Proudly standing in the Andalusian Sierra, Ronda sits 740m above sea level, offering stunning views on picture-postcard landscapes.
The « Plaza de Toros » in Ronda, the oldest bullring in the country, hosts a museum exhibiting various aspects of this Spanish tradition.
If you are on holiday in Tarifa or elsewhere along the Costa del Sol, you can take 1 full day off to visit Ronda. There you can also do some wine-tourism. Visit hidden « Bodegas » in nature and enjoy the local gastronomy and wines!
Alpujarras, Sierra Nevada
Located 50 Km south of Granada and sitting on the Sierra Nevada flanks at 1,000-1,500 m in altitude, Alpujarras is an ideal region for mountain activities lovers and local crafts.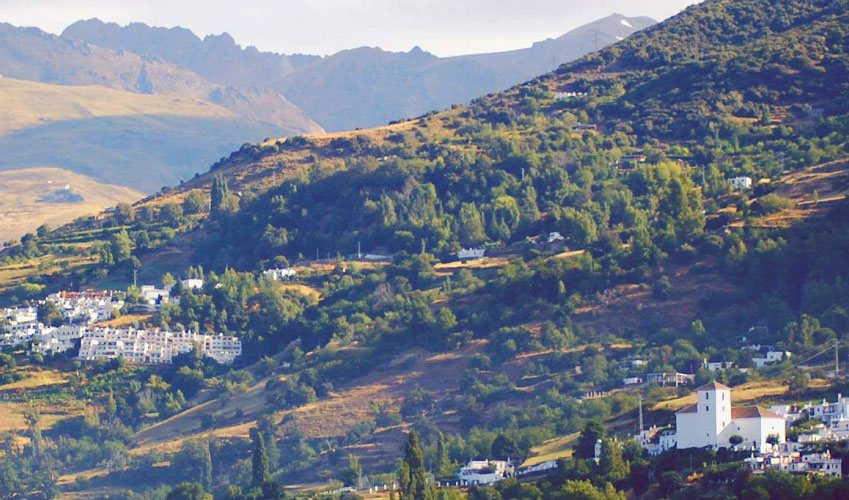 It was once one of the world's largest silk producing region. There are many hiking options to explore the region. But you can also visit this beautiful area on horseback or mountain-biking for the sporty ones.
Only 1 hour from the Alhambra and the Mediterranean coast, the Alpujarras' pretty little white villages, Pampaneira, Bubion and Capileira are charming havens of peace where it feels good letting yourself get lost.
Baeza and Úbeda
These two Andalusian cities are located in the heart of olive groves in the province of Jaén.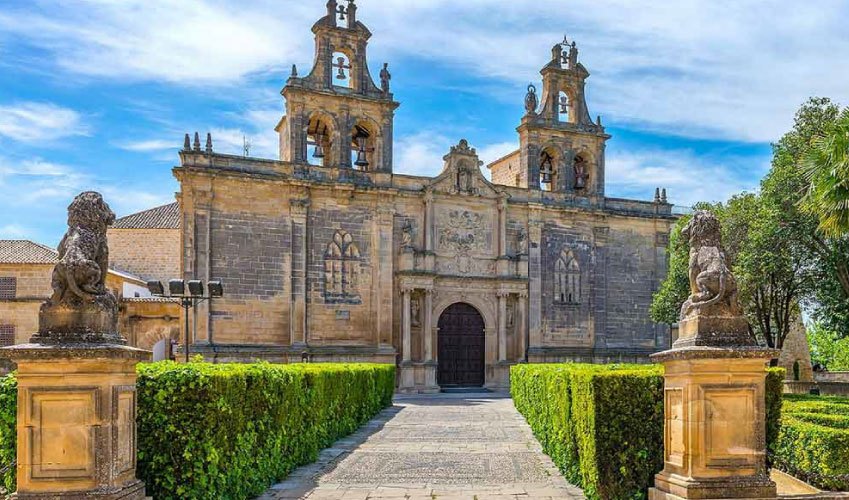 Their Renaissance architecture and Medieval heritage have retained all their authenticity, which led to their inclusion in the UNESCO World Heritage Sites list.
As you wander through the narrow streets lined with palaces and churches, you'll succumb to the Italian charm of the « Plaza de Vázquez de Molina » in Úbeda and the « Plaza del Pópulo » in Baeza.
Don't leave the city without a stroll along Úbeda's ramparts or a visit to the cathedrale and Jabalquinto's palace in Baeza.
Vejer de la Frontera
Our favourite place to visit near Tarifa!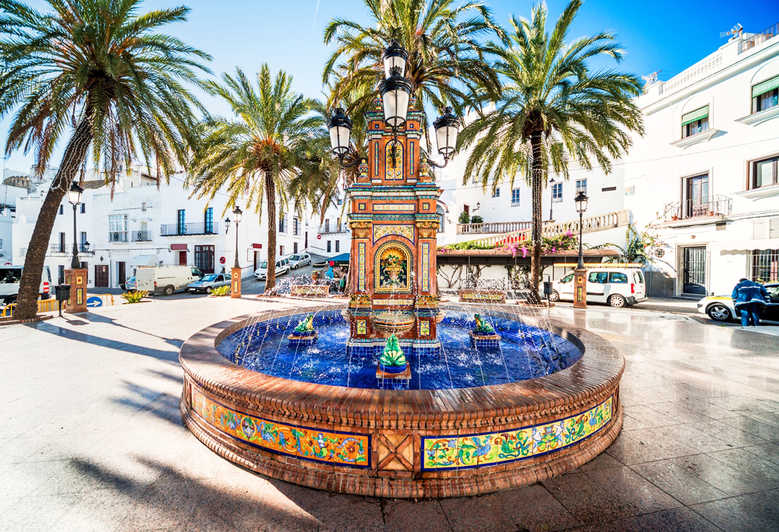 Vejer de la Frontera is a lovely white village, perched on a mountain and overlooking the gorges of the Barbate River. Once at the entrance of the village – called « La Barca de Vejer » – head towards the beautiful « Plaza de Espana ».
You just can't miss it with its distinctive Palm Trees and Frog Fountain! Stroll through the old town's maze of winding streets and have a beer at sunset to appreciate the view.
Andalusia - Sea Side
The Atlantic coast of Andalusia – Costa de la Luz – is very popular among Spanish tourists. Here, you will enjoy the athmosphere of a preserved environment, with natural parks, miles of beaches such as in Tarifa with clear water and legendary white villages perched on the region's heights.
Jerez de La Frontera
Are you a wine amateur? Then take a tour of the local wineries in Jerez de la Frontera or the nearby town of Puerto de Santa Maria.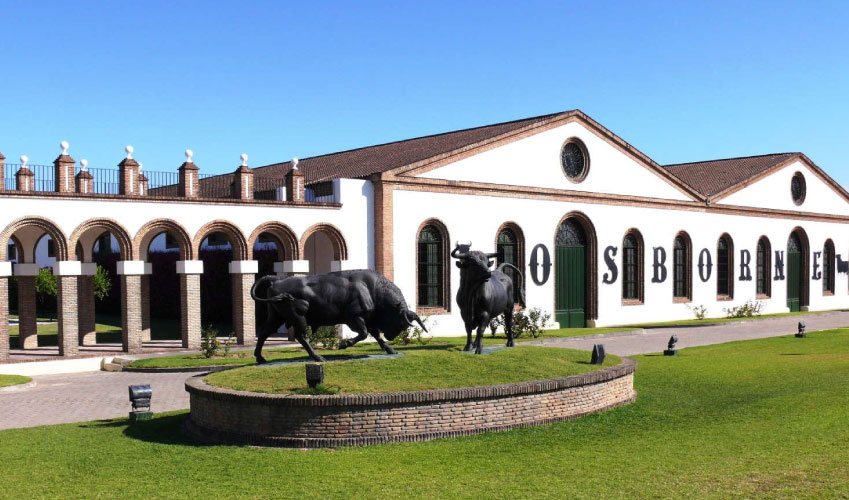 There, the grapes are grown almost religiously and the wine cellars are even compared to « cathedrals » for their size and sacred atmosphere.
If you like horseriding, visit the Royal Andalusian School of Equestrian Art in Jerez and watch dance performances combining dressage with Spanish music.
Cadiz
The coastal city of Cádiz, also known as La Tacita de Plata, is one of the most important harbours in Spain.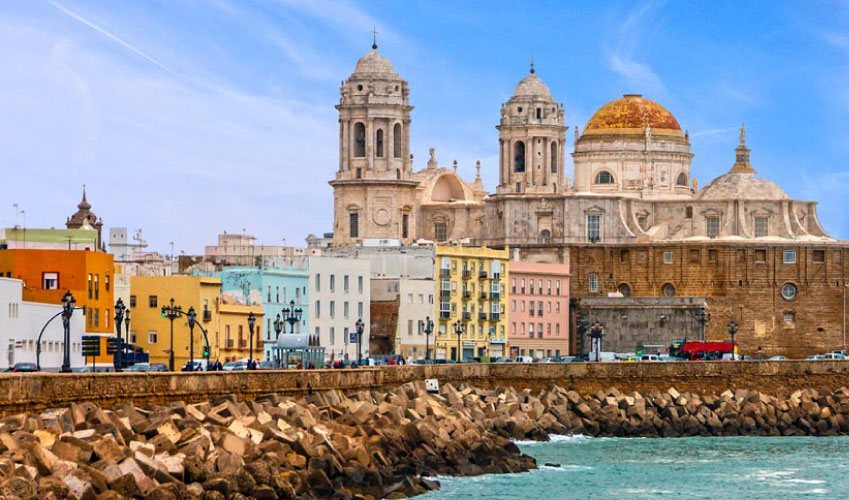 The city's ambience, beaches and climate make it a nice one-day stop for some of the people, and a nice holiday destination for others, especially for families.
While on the Coast of Light, you wont miss to notice the benefits of having a permanent and impressive daylight flooding the days, and you'll surely enjoy stunning sunsets over the ocean.
Cabo de Gata National Park
Located in the south-east of Almería, the Natural Park of Cabo de Gata-Níjar is one of the most beautiful in Andalusia.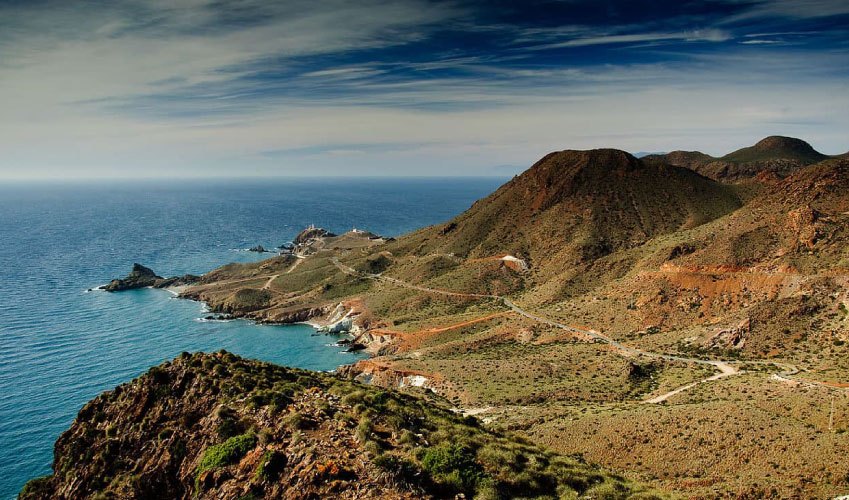 Unlike some areas of the Costa del Sol which have been literally invaded by hotel buildings, this part of the territory is truly unspoiled and has even been listed as a Biosphere Reserve by UNESCO. The park is home to ancient underwater volcanoes, reefs and coves of singular beauty.
Birding enthusiasts will also love the park's marshes which provide shelter for migratory birds. If you are more interested in the park's underwater world, you'll have the possibility to go scuba diving!
Doñana National Park
Located in the province of Huelva, this park is another UNESCO classified site.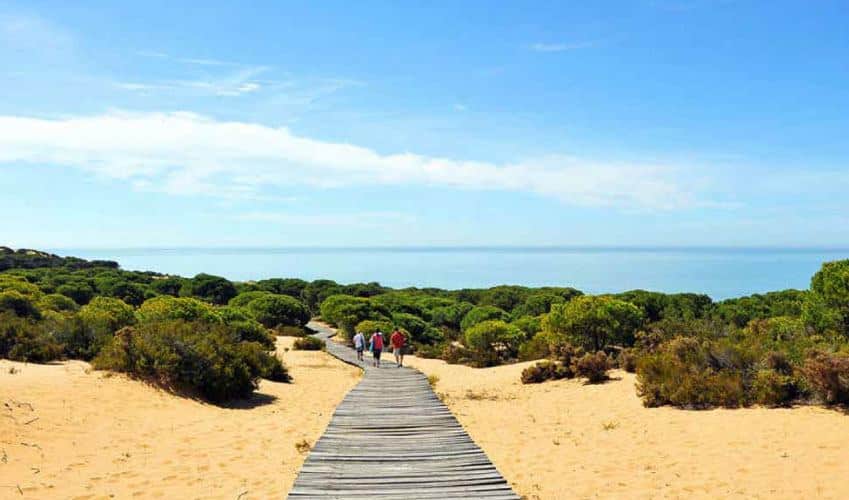 Doñana National Park is a paradise for birdwatchers. An ideal place for bird watching, home to a large number of protected species. With its long stretches of fine sandy beaches with warm and crystal clear waters, Huelva is also a prime destination for a seaside holiday.
Costa de la Luz Beaches
Regulars on the Costa del Sol have probably never heard of Barbate, Zahara de los Atunes or El Palmar.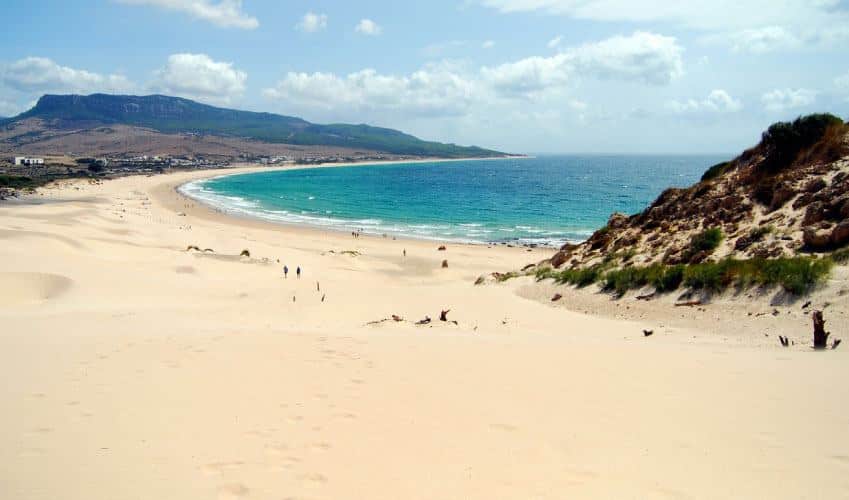 Indeed, the Atlantic side of the Andalusian coast is less known and much wilder and windier than the southern Mediterranean beaches. Moreover, it has some of the best spots for practicing water sports. Click here to discover our guide of the most beautiful beaches of Andalusia.
Share your experience!
Any place to recommend? Some good advice worth sharing?
Feel free to leave your suggestion in a comment.
This site uses Akismet to reduce spam. Learn how your comment data is processed.