WATERSPORTS SCHOOL
Freeride Tarifa,
True Lover of Kitesurf
We strongly believe anyone can give kitesurfing a go. Our approach is fun, professional and personal. What's more, we're IKO certified and can tailor lessons to suit groups of any size. Whether you're learning solo or with friends, we'll always ensure there's a maximum of 4 students per instructor. This way you get the best tuition for your needs.
We dedicate a lot of attention to the safety of our students as well as their progression. That's why we renew our equipment, brand Naish, every year and we use radio headsets to bring you the right information at the right time. We are agile and we move according to the wind to make you enjoy the best conditions in the region.
A FUSION OF TALENTS
The Freeride Tarifa founders
Meet the two thrill-seeking, kite-loving locals who lead the school.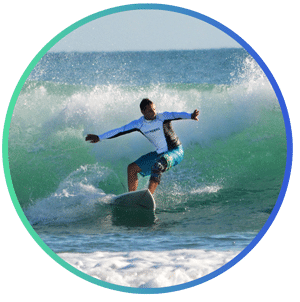 OUR INTRUCTORS
Meet the team
FR / EN / ES | IKO 2
Morgan Renier
Morgan has been a Strapless Adict and kitesurfer since 2008. He has surveyed a multitude of spots around the world and have chosen Tarifa for his unequaled wind statistics and sweetness of life. He teaches since 2013 always with the same passion and the same energy. Your goal will be his.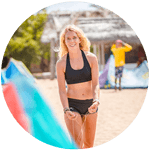 PL /EN / FR | IKO 2
Kaja Zator
After 10 years of sailing and couple more of windsurfing I decided that it's kiteboarding that exited me the most. After exploring best spots of Asia like Sri Lanka and Vietnam, now it's time to enjoy windy Tarifa. I love sharing the passion with my students and I'm happy as much as they are when they progress!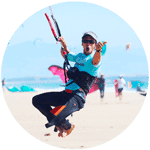 FR / EN / ES | IKO 2
Julien Pierre
After having sailed in dreaming spots such as Rodrigues, Madagascar or Dakhla, this kiteborading fan in all its forms laid its board and its sails on the best European spot – Tarifa. He teaches with passion and devotes his time to share the best of his experience with his students both in kite and snowkite.